Knock It Off! Episodes
DIY Temporary Fabric Wallpaper to Dress Your Walls for the Holidays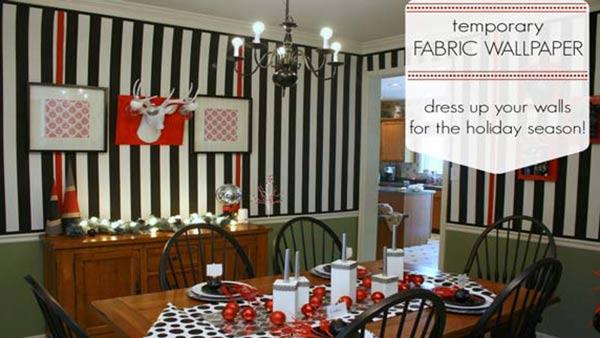 If you want to transform a room, but can't afford the high price of wallpaper, try fabric. A bold fabric like this black and white stripe can make a modern statement that instantly updates this room's style.
If you're looking to change up your style just for a little while,or if you rent your home or apartment, temporary fabric wallpaper is an awesome option! You'll need:
fabric in a color or print of your choice - enough to cover your walls
push pins
liquid starch
paint roller
paint tray
matching ribbon
1.Measure the area you want to cover and purchase enough fabric. Cut your first segment of fabric and attach two push pins or staples to hold temporarily. 2. Pour some liquid starch into your paint tray and dip your roller in it. Roll some liquid starch onto the surface of the wall, place your fabric on the wall, and then roll the entire face of your fabric with the liquid starch. Don't worry, it will dry clear and create a temporary, glue-like bond to the wall. 3.Continue attaching your fabric until the area is completed. Finally, trim your edges to make it clean and neat or attach thin ribbon along the edges to give it a finished look! When you're done with your new look, the fabric easily pulls off and the walls can be washed with soap and water!