Knock It Off! Episodes
DIY Teepee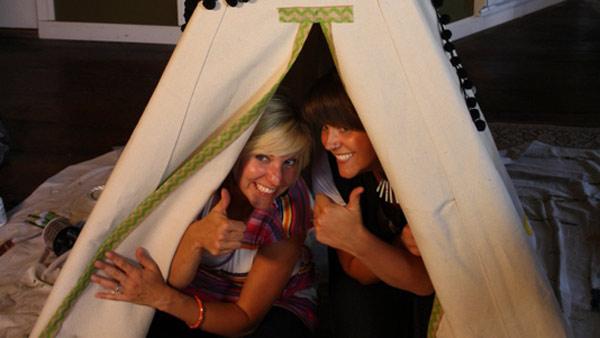 Play teepees are becoming more and more popular these days but they come with a steep price of about $200 to $300! Monica and Jess made their own version by constructing a simple frame and throwing drop cloth around it for only $40!
Monica and Jess can't think of anything cooler for kids than a reading in a teepee! This is such a fun project that will encourage creativity, imagination and hopefully will prompt your kids to start (and continue) to read!
1. Gather your materials. You'll need five or six 2x2 pieces of pine, a painters drop cloth, heavy duty rope, a drill, decorative ribbon, a hot glue gun, fusible web and some paint.
2. Cut your 2x2's with a chop saw to the height you'd like your teepee to be. Remember, that these will make the frame of your teepee and be placed at an angle -- so adjust your height accordingly.
3. Drill a small hole near the top of each of your 2x2's and thread the rope through. Wrap the rope around several times and tie into a strong knot.
4. Cut five triangles of the exact same size from the drop cloth leaving an allowance of one inch all the way around for the seams. Use fusible web to create a finished edge where you cut the fabric. Piece the triangles together using fusible web so that all five triangles are attached. Cut a slit in one triangle from the bottom to almost the top (this will be the entrance to the tent). Finish the cut edges with fusible web.
5. Decorate the fabric to your preference. We stenciled on very rustic triangles with a sponge and paint and added ribbon to the entrance. We also draped some fun pom-pom ribbon around the outside and hot glued in place.
6. Slide the fabric over the top of your wooden teepee frame. That's all there is to it! There are lots of tutorials online, but this one requires no sewing, which in Monica and Jess' books, is the best thing about it!
If you want more information about this project or any of the other projects in this room, check out Jess and Monica's blog, East Coast Creative!