Knock It Off! Episodes
DIY Subway Tile Backsplash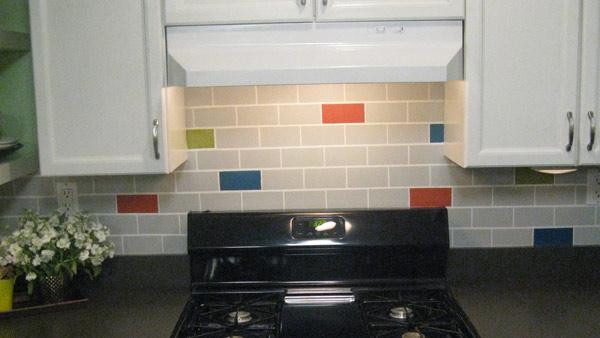 Want the high-end look of subway tile for your backsplash, but can't afford the thousand dollar price tag? Get creative with some paint and tape to get the look you want for only 20 bucks!
1. Paint the entire backsplash area in white. This base coat will become the 'grout' in your finished project. Allow your base coat at least eight hours to dry. Next, you'll want to decide what size tiles you want to create and measure and mark them out on the wall with a pencil.
2. Using 1/4 inch tape, which you can find at your local craft store, tape on your pre-measured lines. Make sure you seal the tape really well so no paint bleeds through.
3. Use small foam brushes to paint in each tile square. You can do them all one color or you can add some fun pops of color like we did in this kitchen! We used mini paint samples, which you can purchase for about $3 each.
4. Once it's dry, remove the tape and you have a perfect subway tile look-a-like for under $15!
If you want more information about this project or any of the other projects in this room, check out Jess and Monica's blog, East Coast Creative!