Knock It Off! Episodes
DIY Rustic Wood Framed Mirror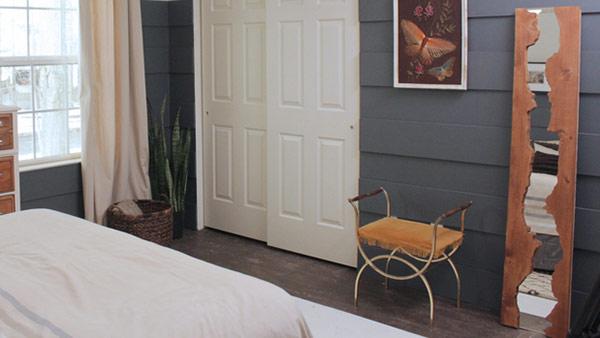 An accent piece using live edged wood is wonderfully rustic looking, but so expensive. Here's how to fake this trend with plywood, a jigsaw and an inexpensive mirror.
Live edge furniture and decor incorporates the natural edge of wood and is often really hard to find and outrageously expensive. We knocked off this look with just a few simple items and some creativity! Materials Needed:
2" x12" pine
standard floor mirror
MDF
liquid nails
jig saw
pencil
stain
1. Cut a piece of MDF that is 6 inches wider and exactly the same height as the mirror. Attach the mirror to the center of the piece of MDF using liquid nails. Clamp the piece together (or weigh it down with heavy books) while it dries. 2. Draw a twisted, curved line on the piece of pine- start with one side, and then draw another right next to it that mimics the first line. This should be imperfect! We free-handed ours, but if you need inspiration, pull up an image of a live edge online and copy it onto the wood. The effect we're trying to get is a "river" of mirror between two live edges. 3. Cut along the line using a jigsaw. This saw allows you to easily follow the small details of the line. Get rid of the piece of wood in the middle (or save it for another awesome project!) 4. Stain the wood to your desired color, letting it soak in on the edges and knots for an authentic live edge look. Let dry. Attach the cut pieces of wood to the MDF overlap with liquid nails on either side of the mirror. The wood should just cover the edge of the mirror. Clamp and let dry overnight. We are in love with this project and the rustic charm it brought to this bedroom! If you can't get the real-deal live edge, make it yourself! For more details on this project or other projects from this episode, visit Monica and Jess' blog
East Coast Creative.