Knock It Off! Episodes
DIY Rustic Holiday Mantel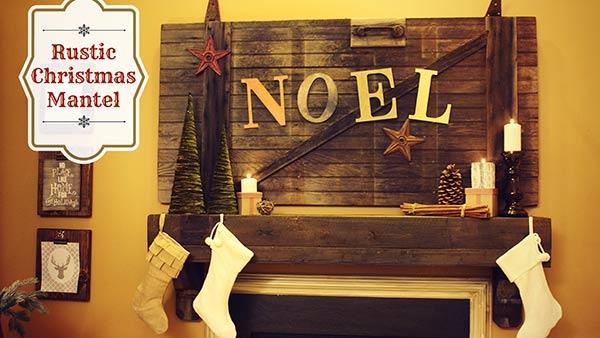 Love the rustic look for your holiday decorations? Here's how you can create a beautiful rustic mantel from reclaimed wood, like an old door that you can decorate for Christmas or any time of year.
You don't have to go crazy on holiday decorations to get your desired festive look! Monica and Jess show the homeowners simple and fun ways to complete transform their rooms. This large, chunky mantle can be a great base for holiday decorating, but it also makes a statement all year long. We scored some old weathered scaffolding from a friend that was the perfect wood for our rustic mantle. You could also look for reclaimed wood at a salvage shop, or buy inexpensive pine at the home improvement store and weather it yourself. You'll need:
reclaimed wood or weathered pine
circular saw
nail gun and nails
drill and wood screws
wood glue
2 corbels
wood stain
water-based polyurethane
1. Determine what size you'd like the mantel to be. Basically, we made a rectangular box that slid right over top their old mantel. 2. We chose to use two planks of wood stacked on top of each other for the face of the mantel, so we screwed them together and then added two sides and a top and bottom piece. To connect them, we used wood glue and a nail gun, which made it really easy! 3. To create the brackets, we took some leftover reclaimed wood and fashioned them into chunky corbels that we screwed into the wall and the new mantel box. You could really do any shape you want, but we wanted a rustic, chunky look for ours! You could also purchase corbels and paint or weather them to match your mantel. 4.To finish it off, we brushed on a coat of walnut stain and water-based polyurethane. Even if you decide not to stain your new mantel, we do recommend sealing reclaimed wood with poly before installing it.