Knock It Off! Episodes
DIY Play House Under the Stairs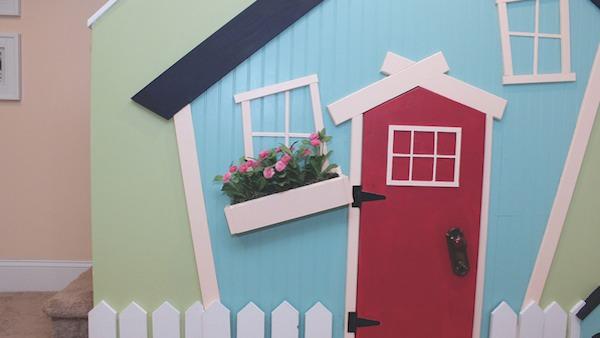 Don't want to spend hundreds on a play house for your kids, but still wish they could have a little space of their own? Here's how you can utilize some unused space under stairs and build an adorable play house on the cheap with this easy DIY project.
If you don't have room for a full-size play house in your kid's play room, don't worry. A lot of houses have open space under the staircase, which is the perfect spot for pint-size playhouse that your child will love! Materials list:
Drywall (for inside playhouse)
drywall saw
spackle
various paint colors
1x4 pine and 1x3 pine for trim
plywood for door
hinges
cabinet knob
One(1) sheet of faux beadboard
nail gun
accessories
1. Determine whether or not there is actually open, void space under the stairs. Ours had a small vent that was easily rerouted, but was otherwise empty! 2. Sketch out plans for the design of your playhouse. We really wanted a whimsical style, so our playhouse had crazy angles that made it really interesting! 3. Using a drywall saw, cut out a door between two studs. Using the space between studs is ideal because it doesn't require breaking out any power tools and it's the perfect size for younger kids. Use the same process for windows, if you desire openings. We didn't have room for actual windows, so we made fake ones with trim. 4. Drywall, spackle and paint the inside of the playhouse. If you're lucky, this will already be done! 5. Pre-paint the trim with your desired color. 6. Paint the beadboard. This will be the outside of the house. Measure the size and shape of your house and then, using a pencil, draw it onto the piece of beadboard. Cut out using a circular saw. Don't worry about being perfect with your cuts, because it will get covered with trim. 7. Cut 1x4 trim with a chop saw for the frame of the house, roof and chimney and attach it to the drywall with a nail gun. We made ours varying lengths to add some quirkiness. Do the same for the windows and door with 1x3 trim. 8. To build the door, we cut plywood to size and added hinges and some cute molding to mimic a window. Paint the door, add a cabinet knob for a handle. Then screw the hinges into the drywall. 9. Paint the house, sky and trim with your desired colors. Add a few fun finishing touches like a window box with flowers and a ledge for a sweet little birds nest and call it a day!