Knock It Off! Episodes
DIY Picture Frame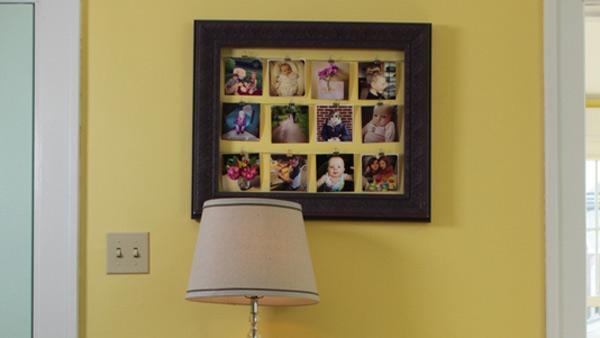 Do you have a bunch of photos on your phone that you would like to display? It is hard to find picture frames that fit your photos from your phone, but designer Jess Jackson has a fun and easy idea.
Most phones print the pictures in a 4" X 4" size but it is hard to find picture frames in that size. You can use an old 11" x 14" frame and use several photos in the frame. By painting the frame a fun color, and securing wire or string to the frame, you can then attach your photos with clips or clothespins. It is the perfect way to help personalize any room!
Directions:
1. Get an old 11"X14" frame
2. Paint it a fun color
3. Print out a bunch of photos
4. Secure wire/string to frame
5. Attach photos with clip or clothespins
6. Mix and match your photos -- you can group them by season or by color -- just play with it and have fun!
If you want more information about this project or any of the other projects in this room, check out Jess and Monica's blog, East Coast Creative!