Knock It Off! Episodes
DIY Painted Pallet Wall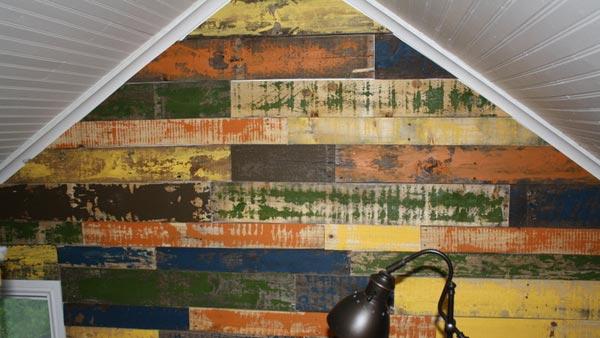 Want the high-end barn wood look for your accent wall, but can't afford the thousand dollar price tag? Get creative with some paint and pallet wood to get the look you want for less! This fun project adds a ton of character to a room.
You'll need:
a couple of shipping palletts
small blocks of wood
paint
chop saw
crow bar
nail gun and finishing nails
1. You can get free pallets from many home improvement stores, nurseries, and shipping companies. Just call ahead and ask. Pro tip: ask if your pallets have been treated with pesticides. If so, you'll want to make sure to seal the wood using a water-based polyurethane.
2. For your pallet wall, you'll want the horizontal front pieces only. Use a crowbar to carefully pry the pieces loose and then remove any nails.
3. Once you have your big stack of useable wood, it's time to lay it all out and get painting! Monica and Jess used five different colors and to save costs, they used sample size pots. To the get uneven look of authentic barn wood, they used a block of wood as our paint brush! This helps the paint go on unevenly and gives that old, weathered look. There's no trick to the technique- just dip your block in the paint and rub it on! Don't worry about getting it perfect -- the idea is that imperfections equals character!
4. After your boards have dried you can attach them to the wall. This step is kind of like putting a puzzle together! You'll start in one corner, attach your first board, and work your way across making a row. Mark any cuts with a pencil and cut using a chop saw. Once your first row is done, move onto the next. Vary the lengths of your boards so all the lines don't match up perfectly.
This wall is so fun and could work in a kid's playroom or a funky and fun family room!