Knock It Off! Episodes
DIY No-Sew Fabric Roman Shade Curtains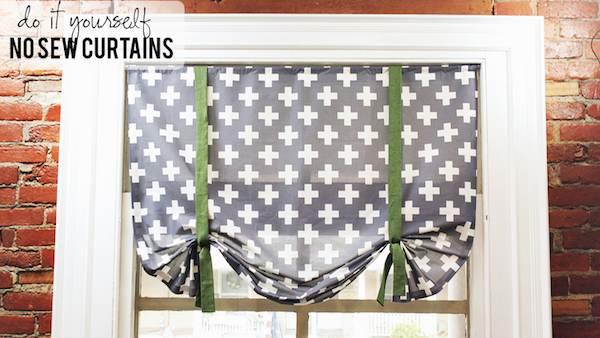 Why pay loads of money on expensive curtains or shades, when you can make your own using the fabric of your choice! And there's a bonus: no sewing skills necessary! Here's how to DIY these custom window treatments.
Materials:
3 yards of fabric
fusible webbing or fabric interfacing
ribbon in contrasting fabric
scissors
measuring tape
tension rod
1. Measure the width of the window inside the trim and add one inch to that number for the seam allowance. Cut the fabric to the width of that measurement. 2. At one end, fold the fabric over to create a pocket for the tension rod. Line the edge of the fabric with fusible web, paper-side up, and iron into place, following the directions on the package. Remove the paper backing and fold the fabric over the fusible web. Iron into place. The heat from the iron activates the glue so that it adheres to the fabric. 3. Double-check the measurement for the width of the window and the fabric. You should have an extra 1/2 inch on either side for the seams. Fold the fabric over 1/2 inch and repeat the process with the fusible web. Do this on both sides and on the bottom, the opposite end from the rod pocket. 4. Place the tension rod into the pocket and adjust the tension so that it sits inside the window frame. Cut two pieces of ribbon double the length of the curtain. Loop the fabric over the top of the curtain a few inches in from each side, so that it hangs evenly on the front and back. 5. Starting at the bottom of the curtain, carefully create folds in the fabric until you reach the height of your preference. Using the ribbon, tie the folds up. Loosen the folds in the middle and make adjustments as necessary until you are satisfied with the way it looks. Ta-da! You're done, and you didn't even have to break out the old sewing machine!