Knock It Off! Episodes
DIY Modern Holiday Tablescape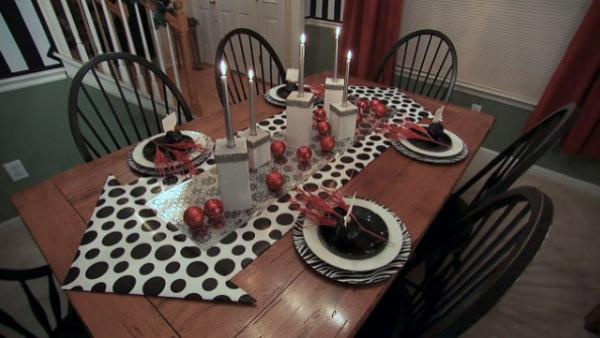 Want a beautiful, modern holiday table for way less than it would cost at a regular store? We'll show you how to DIY this gorgeous black and white holiday tablescape for $25 total with these easy projects like chunky wood candleholders, wrapping paper table runners and placeholders made from tree ornaments.
This holiday tablescape is super modern and fun, and so easy! We made a table runner out of wrapping paper and topped it with decorative aluminum sheeting which is usually used for radiator covers. You can get it at a home improvement store. Buy an extra sheet to decorate your chunky wood candleholders, made from a fence post Monica found on clearance. And then we made simple placeholders out of black tree ornaments. To spice up the table, we added inexpensive zebra print charger plates and some red tree ornaments. Voila! An easy holiday table you don't have to spend a lot of time or money on.
DIY Chunky Wood Pillar Candleholders
You'll need:
Fencepost
Circular Saw
Drill with a 3/4 inch spade bit
glossy white spraypaint
Silver taper candles
decorative aluminum sheeting (made for radiator covers - available at a home improvement store)
tin snips
1. Cut your fence post into short lengths of various sizes with the circular saw.
2. With the 3/4 inch spade bit, drill holes about 3/4 of an inch deep into the center of one end of each of your candleholders.
3. Paint each holder with glossy white spray paint. Allow to dry.
4. Using tin snips, snip off just the edge of the alumnimun sheeting - the solid part. Snip along the middle of the first row of openings. You'll be left with a strip that has a straight edge and one scalloped edge.
5. Use tin snips to cut the strips to the right length to go around the perimeter of one side of your candle holder. Using a hot glue gun, glue the strip to the outer rim of each candleholder on the side with the hole drilled in it with the scalloped edge down.
6. Insert taper candles and light!
DIY Table Runner from Wrapping Paper Arrows
You'll need:
Wrapping paper in a pattern you like
scissors
tape
1. Measure your table and decide what length of table runner you want.
2. Cut a length of wrapping paper half the length of your desired table runner.
3. On one side of the length of wrapping paper, about 3 quarters of the way down, cut in a few inches on both sides of the wrapping paper. Fold the long flaps in toward each other and tape down on the backside of the wrapping paper.
4. Fold the two edges of the box on the end diagonally to create an arrow. Tape on the backside.
5. Repeat the entire process with another piece of wrapping paper and place the arrows on the table, pointing in opposite directions.
DIY Placeholders from Holiday Tree Ornaments
You'll need:
black tree ornaments
white paint pen
white sticky notes
black pen
tape
1. With the white paint pen, write holiday words like "peace" and "joy" randomly on the surface of the ornament.
2. Write each name on a sticky note and attach it to the top of the ornament with a piece of tape.