Knock It Off! Episodes
DIY Kids' Play Stage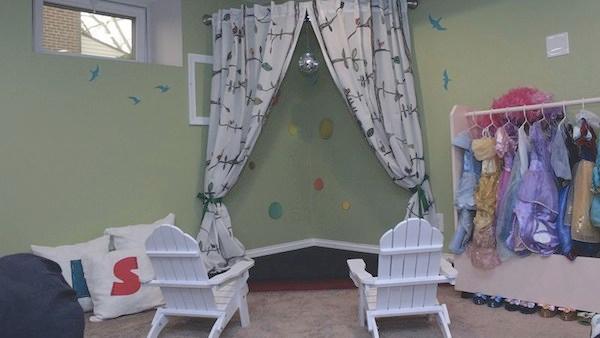 If your kids love to sing, dance or put on a show, give them a place to shine by building them a stage! While you can buy pre-built stages for hundreds, it's easy to build your own in half a day for less than half the cost.
Materials Needed:
Three (3) 2x4 at 8 ft
One (1) sheet MDF
Chop or Mitre Saw
circular saw
Nail Gun
Paint
Curved Shower Rod
Curtains
Disco ball (optional, but totally cool!)
1. Determine the size of your stage. We wanted ours to fit snugly in the corner and be about 4 feet in width. Make measurements for one long front piece, and two sides. These will attach together to create a triangle. 2. Cut down 2x4's to pre-determined lengths. Mitre the ends of each 2x4 so that each piece fits seamlessly together to make a perfect triangle. Remember, the longer piece will be the front of your stage. Attach 3 pieces together with a nail gun. 3. To make the stage sturdy, cut several support pieces to fit inside the triangle. We mitered the ends of these too, so that everything could be nailed together easily, marked where we wanted them to go on our 2x4 triangle and nailed them into place. 4. Take your triangle frame and fit it into the corner of the room. Nail the entire frame to the baseboard all the way around. 5. Measure the MDF to the size of the triangle frame, plus 1-2 inches for an overhang and cut using a circular saw. Nail the MDF triangle directly into the triangle frame of the stage. 6. Fill holes with wood filler, sand and paint desired color. Hang a curved shower rod (we got an adjustable curved tension rod) on either side of the stage. Hang curtains and the disco ball, and it's an immediate party! Karaoke, anyone?