Knock It Off! Episodes
DIY Holiday Wreath from PVC Pipe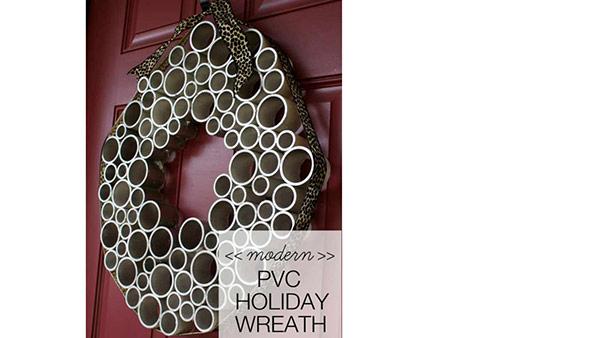 Those beautiful holiday wreaths can cost a pretty penny. Here's how you can make your own modern take on a wreath with just a few lengths of PVC pipe.
You'll need:
3 length of PVC pipe in 3 different widths
circular saw
PVC epoxy or any glue intended for plastic
spray paint
ribbon
small bucket or other cylindrical object
1. Using the circular saw, cut the three lengths of PVC pipe into 2 inch long pieces. Get ready for a snowstorm. 2. Put your small bucket or other cylindrical object on a table and start by surrounding it with pieces of PVC pipe to create a circle. Once you've created a circle, glue the pieces together one by one, putting a dab of glue onto the side and adhering it to the piece next to it. p> 3. Continue to add layers of pipe lengths until the wreath is as wide as you want it, varying the pipe lengths throughout. 4. Spray paint the wreath any color you like and add ribbon at the top or around the outside. Hang on your door and enjoy this clever modern take on a traditional wreath.