Knock It Off! Episodes
DIY Holiday Tree Outdoor Decoration from Pallet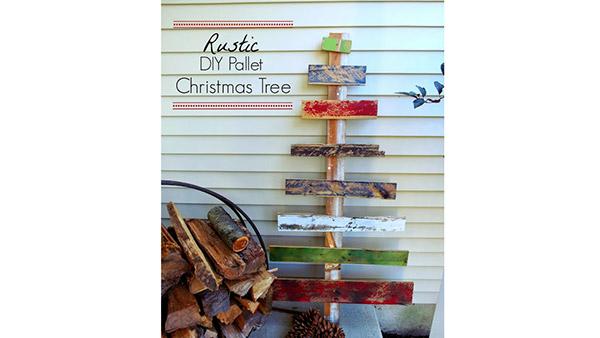 Take an old pallet and easily transform it into a beautiful holiday tree for your porch or front yard. Learn how to do this easy DIY project.
You'll need:
wood pallet
circular saw
crowbar
paint in various colors
scrap wood
power drill and screws
1.To disassemble the pallet, use a circular saw to cut the wood on either end. Use a crowbar to loosen the nails in the middle and pop the wood right off. Here's a tip: older pallets are easier to take apart than new ones, so look for the ones that are really aged and weathered! 2. Paint the pieces of pallet wood in various colors. We used gold, white, green, red and even some navy blue! We did a mixture of spray paints, wood block painting and brushing to give each piece it's own unique look. 3. Find a scrap piece of wood for the trunk and cut it to the height you'd like your tree to be. We had leftover reclaimed scaffolding from our mantel project, so we used that. Cut your pallet to size, beginning at the bottom of the tree with the longest piece of wood. Screw the wood in the center into your trunk. Measure the next piece and screw it into place, making sure that each piece is smaller than the one below it. 4. Continue until you reach the top of your tree. Once you're done screwing all of the pieces of pallet into place, you can add some cute ornaments or a star to the top, or just leave it plain like we did!