Knock It Off! Episodes
DIY High-End Painted Garage Floors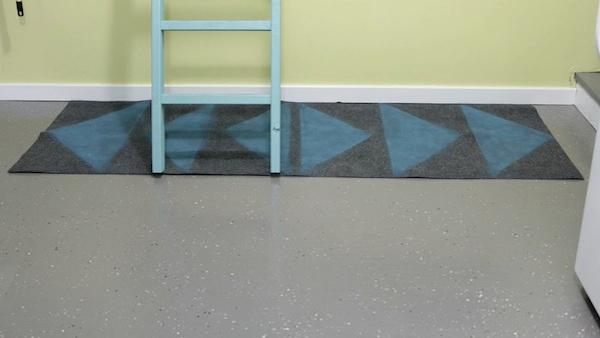 The one feature of a garage that makes it feel like a cold outdoor space is the concrete floor! To make it feel like an extension of your home, try painting it with this DIY technique that will make it look like an expensive stone floor.
Materials Needed:
Garage floor epoxy paint
paint rollers with long poles
broom
shop-vac. hose
decorative color flecks
1. Clear out the garage. Thoroughly sweep the entire garage to remove any dust or debris. If you have a shop-vac, even better! Rinse the entire space with soapy water and let dry completely. 2. Mix the epoxy paint thoroughly according to the directions. Most epoxy floor paints needs to be used in a certain amount of time, so be sure to allot the proper amount of time. 3. Begin by cutting in with a paint brush along the edges of the garage. Then, working in small sections at a time (4 feet by 4 feet), roll the paint onto the floor. After rolling the small area, sprinkle the decorative chips onto the wet paint. How much to use is completely up to you and your preferences! 4. Continue working in small sections until you've covered the entire surface of the garage floor. Let the paint completely dry overnight (16-24 hours) before walking on it. You would not believe how much this one simple project changed the look of this hard-working garage! Now it's your turn- go ahead and give it a try!