Knock It Off! Episodes
DIY Hanging Tool Rack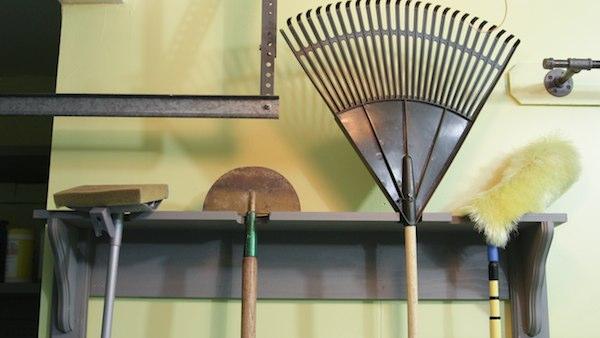 Keeping all your mops, brooms, cleaning and garden tools organized can be tough, and store-bought tool racks can cost a pretty penny. Here's how to build one yourself on the cheap with a simple tool - a bottle cap!
Materials
two wooden shelf brackets
1x8 board or any piece of wood cut the size of a narrow rectangular shelf
bottle cap from large plastic jug
jigsaw
circular saw
nailgun and nails or hammer and nails
1. Cut your length of wood to the size you want it - small enough to fit in the space you have on the wall, but large enough to hold all your tools. 2. Using the bottle cap, trace circles on one edge of the wood, spaced evenly - one for each tool you want to hang. 3. Using the jigsaw, cut out the traced circles, leaving a U shape in the wood where the top of each tool will hang. 4. Attach the shelf to the top of the brackets, with the holes you just cut facing out. 5. Mount the shelf brackets on the wall, being sure to attach it to the studs. Hang your tools and marvel at this great organizer you made for less than $20!