Knock It Off! Episodes
DIY Hanging Bike Rack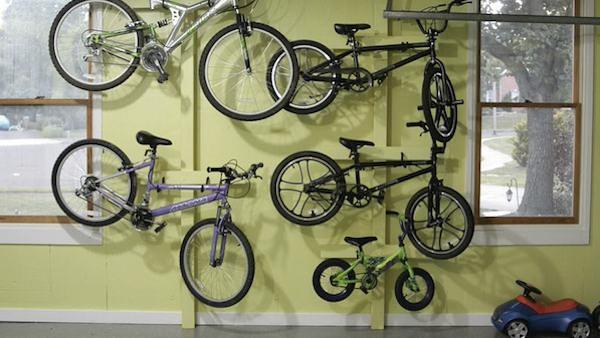 Storing bikes has always been such a pain and so unsightly. Here's a way to easily make a bike rack that gets those bikes up off the floor and onto the walls in a way that looks tidy and stream-lined, and on the cheap, too!
Materials Needed:
two (2) 2x4's, 8 feet long each
one (1)1x4, 8 feet long
four (4) bike hooks
paint drill
chop saw
tape measure
1. Measure and cut the 2x4's to the height you need. Our garage ceilings were 9 feet tall, so we kept our 2x4's the 8 foot length. Less work for us! 2. Determine how many bikes you'd like to hang on the rack. We made two racks: one for the family's adult bikes, and one for the kid's bikes. The measurements for these two racks were different because of that. Figure out how much distance you need between the bikes by measuring the height of each bike. Make a mark on the 2x4 for each cross piece you'll be attaching. 3. Cut the 1x4 into 24 inch cross pieces, using a chop saw. Place the center of the cut piece onto the mark on the center of the 2x4 and screw into place. We used three screws per cross piece in a triangle patter to ensure it was sturdy. 4. Paint the entire bike rack your desired color. We decided to paint our bike racks the same color as the wall, so that the bikes would be the star of the project. 5. Measure an equal distance out from the center of each cross piece and drill a pilot hole for the bike hook. Screw the bike hook into the cross piece by hand until it's tight. 6. Attach the second 2x4 to the wall where the bike rack will be hung. Make sure it is level and that you screw it into studs. Now attach the bike rack you just built to the 2x4 on the wall. Doubling up the 2x4's allows the bike to sit off the wall so that the wheels hand nice and straight. That's it! Not bad for only a couple of bucks!