Knock It Off! Episodes
DIY Desk for Two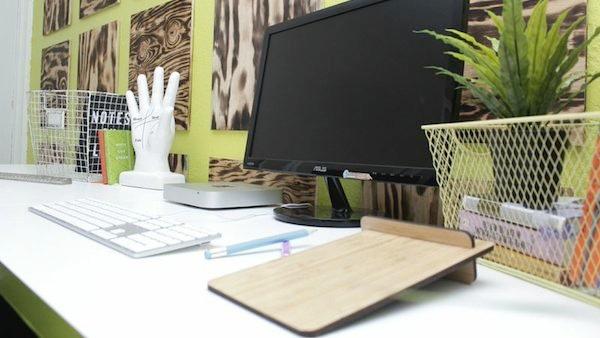 When you're on a budget, buying office furniture is often out of the question because it's so expensive. Here's how you can easily make a large work space by combining two less expensive table tops into one!
Materials Needed:
two identical table tops (ours were purchased at a big box store and were 2 ft x 3 ft.)
saw horse-style legs
three (3) straight
flat brackets
screw driver
duct tape in various colors
1. Flip the table tops over so that the underside is facing up. Align the tables so that they are flush against each other. Attach the straight bracket at the center of the tables, over the seam. Screw the bracket into place and then attach the other two brackets on either side of the first one. 2. Attach the top to the sawhorse bases using the screws provided with the base. For added detailing, we used neon duct tape to create a fun pop of color! We laid the tape down from the edge of the desk towards the center seam, alternating the lengths of each color tape. Then we did the reverse on the opposite side of the table. To finish it off, we applied tape all the way around the outside edge of the table. That's it! You've just assembled a workspace that more than one person can utilize, while still maintaining an awesome modern style!