Knock It Off! Episodes
DIY Custom Cubed Seating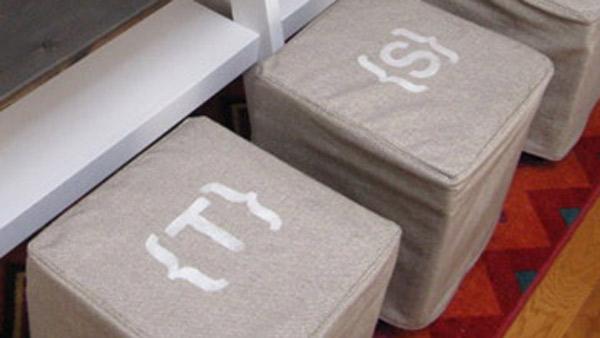 Create custom seating for your kids playroom or bedroom with these DIY tips. This project utilizes store-bought cube seats that are easy to work with and simple to customize!
1. We found these cubes at a big box store and they already came with fabric seat covers. Score one for us! That's one less thing we have to make!
2. Take the seat covers off and cut the legs off with a hacksaw. Cut a piece of scrap wood into a square and screw into the corners of the cube where the castors will go.
3. Pre-drill a hole in each corner piece and screw the castors into the holes you drilled. Now you have cubes that can move around anywhere you want!
4. Now it's time to really make these seats your own! Slide the fabric cover over the cube. Mix some paint with fabric medium (so you can wash them later if they get dirty!) and grab a large initial stencil.
5. Center the stencil on the top of the cube and using a stencil brush, lightly apply the paint in a circular motion onto the cube. Make sure you offload your brush to avoid bleeding!
Now you have semi-custom cube seating and no one will be the wiser!
If you want more information about this project or any of the other projects in this room, check out Jess and Monica's blog, East Coast Creative!