Knock It Off! Episodes
DIY Corner Bench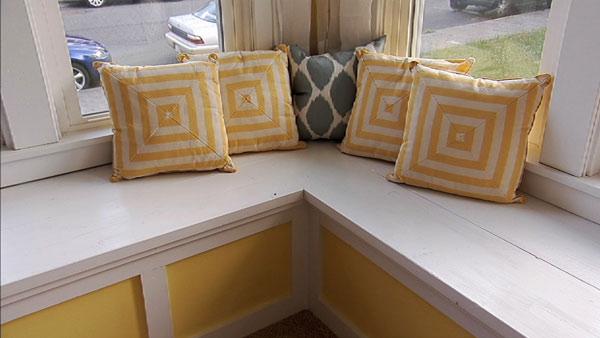 Adding a corner bench is a great way to create additional seating in a room that doesn't have much space for traditional furniture. Plus, they're pretty cute, too!
Directions:
1. Make measurements to determine how high you want your bench (typical benches are between 18 and 21 inches tall) and how long you each side to be.
2. Cut 2x4s to the appropriate length, depth and heigh and build a box. This will act as the frame for your bench. Attach the frame to the back wall and into the floor for extra support.
3. We used inexpensive pine planks as the top of our bench, so we cut them to size and sanded them smooth. Attach planks to the frame, screwing in from the underside so that you can't see the screws from the top.
4. Cut drywall to size and attach to the front and exposed sides of the bench frame.
5. Spackle and caulk all seams and screw. Sand for a smooth finish. Paint the drywall in the color of your preference (we went with the wall color- a sunny yellow). Paint the top of your bench as well.
6. Add trim moulding to the base of the bench to create a built-in look.
Note: If you want this bench to double as storage, simply add hinges to the top instead of screwing it into place.
Monica and Jess were thrilled to be able to give these homeowners extra seating for entertaining, but also a comfy place for this mom of three to relax and enjoy the sunshine!
If you want more information about this project or any of the other projects in this room, check out Jess and Monica's blog, East Coast Creative!