Knock It Off! Episodes
DIY Chandy Fan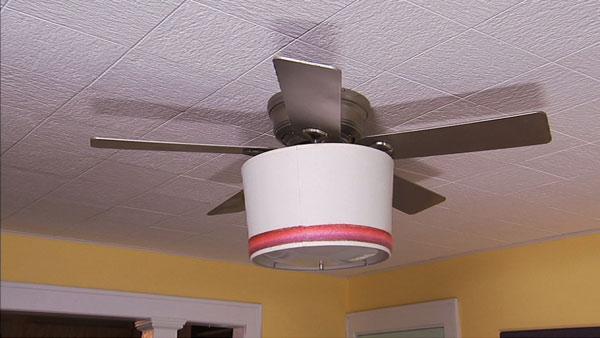 Don't get rid of your old, outdated ceiling fan just yet. You can easily transform it from ugly to stylish with just a few simple tricks.
Buying a brand new fan can set you back hundreds of dollars. Transform your bland, old ceiling fan into one with character by just using some paint, decorative yarn and an extra drum shade. By adding these finishing touches, the old ceiling fan has transformed into an original statement piece, giving the room an artsy and high-end look.
Directions:
1. Hold a new drum lamp shade up to the ceiling fixture to measure how high (or low) you want the shade to hang below the blades. Make a note of that length.
2. Remove the ceiling fan and light fixture and disassemble it.
3. Lay all of the fan blades and metal parts of the fixture on a drop cloth and spray paint them in your desired color. We did the entire thing in a brushed nickel finish. Make sure to stick cotton balls in any of the electrical parts so as not to get paint on them.
4. Grab a 30-inch all-thread lamp pipe (otherwise known as a down rod) and a few pipe couplings from the lighting department of your home improvement store. Cut the down rod to the appropriate length you noted above with a hacksaw.
5. Loosen the old down rod from the ceiling fan, and screw in the new down rod. Attach with a coupler. Thread the lamp shade onto the new down rod and screw on another coupler to hold it in place. Do the same process with the diffuser, if you're using one. We loved the look of the diffuser for this bright and cheery room, but it's absolutely not necessary.
6. Re-wire your new chandy-fan, and enjoy a stylish, updated fan. And to think... you were going to throw that old thing out!
If you want more information about this project or any of the other projects in this room, check out Jess and Monica's blog, East Coast Creative!