Knock It Off! Episodes
DIY Built-in Bookcase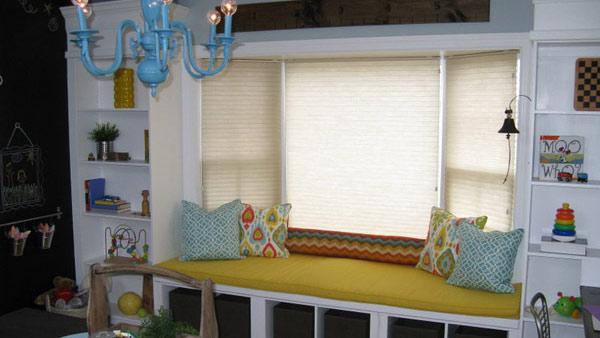 High-end, built-in bookcases can cost a fortune, but by using existing pieces of furniture as your framework, you can create the same look at a fraction of the cost! Get a few DIY tips!
1. Use store bought cube units as your base for the bench seat. You can get these at many stores now, the only think to make sure of is that they're pretty heavy duty. You don't want a flimsy bench!
2. Flanking the cube unit, add two store bought bookshelves. The height will depend on your ceilings and if you want them to go all the way to the ceiling.
3. Use a drill and heavy-duty screws to connect the sides of your shelves to the cube unit. Don't worry about things matching up perfectly or seeing gaps -- molding covers a multitude of sins!
4. Add trim molding anywhere that the pieces of furniture meet and crown molding around the top of the bookshelves. Molding is where we're getting our high-end look! Don't forget to use a miter saw with 45 degree angles.
5. Add pillows and cushions to the seat, accessorize those shelves and you've just successfully knocked off high-end built-in shelves!
If you want more information about this project or any of the other projects in this room, check out Jess and Monica's blog, East Coast Creative!