Knock It Off! Episodes
DIY Built-In Bookshelves from Crates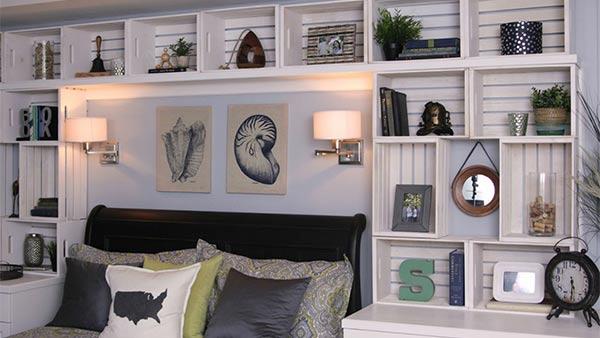 Custom built-ins can cost thousands, but here's a way to DIY it for less by using cabinets and craft crates to create built-in character on a budget.
This is one of those projects for those who don't want to put the time or money into getting expensive built-in bookshelves. We used a few inexpensive items to build our own bookshelves that have loads of character, and they cost less than $200. You'll need:
2 vanities, stock cabinets or nightstands
20 unfinished craft crates
paint
long shelf or piece of wood
nail and nail gun
1. We bought two stock cabinets at our local thrift store, and 20 unfinished wood crates online. To make all of the pieces look unified, we painted them in a soft white. 2. Place your cabinets on either side of the bed and nail in the wall. Place two crates on top of the cabinet and nail into place. Then screw the crates together and into the wall. Continue with 8 crates (2 rows of 4) on either side of the bed. 3. For the crates over the bed, create a long shelf to connect the crates on either side of the bed. Nail a row of crates directly into the shelf. Make sure you level them as you go! For added security, nail the crates together, as well.