Knock It Off! Episodes
DIY Board and Batten Wainscoting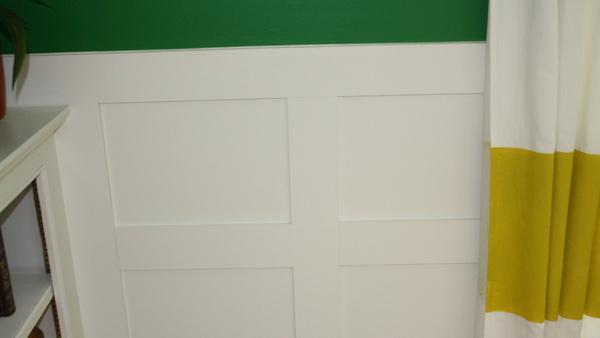 Want the high-end wainscoting for your wall, but can't afford the thousand dollar price tag? This easy DIY home decor project recreates the high-end look of board and batten wainscoting at a low price.
Monica and Jess love the classic, yet on-trend look of board and batten. With no complicated cuts to make, this simple DIY project will transform a room. The team chose to use inexpensive medium-density fiberboard or MDF, an engineerd wood product made by breaking down hardwood into wood fibers and combining them with wax and resin, because it's easy to work with and really budget friendly. At around $18 a sheet, MDF can be cut down into many smaller sized planks to create the board and batten look, as opposed to traditional wood planks, which often run $15 to $20 a linear foot. Determine how high you want your board and batten and how wide you want your spacing. The look and style is completely up to you. We decided to do thin rectangles with a smaller square-ish shape at the top. Here's how to create this look at home: 1. Use a chop saw to cut the MDF into the right size and shape for your space. 2. Apply the MDF to the wall using a nail gun. If you don't have a nail gun, a good old hammer and finishing nails will work too, it will just take a lot longer. 3. Make sure you level each piece of MDF before attaching it. That will ensure that you have straight molding. 4. After you've attached your MDF, use paintable caulk to fill nail holes and any visible seams. This will give your board and batten a finished look. 5. Paint your board and batten in a crisp coat of paint. We used semi-gloss white, but the options are endless. If you want more information about this project or any of the other projects in this room, check out Jess and Monica's blog,
East Coast Creative.