Knock It Off! Episodes
DIY Bicycle Wheel Clock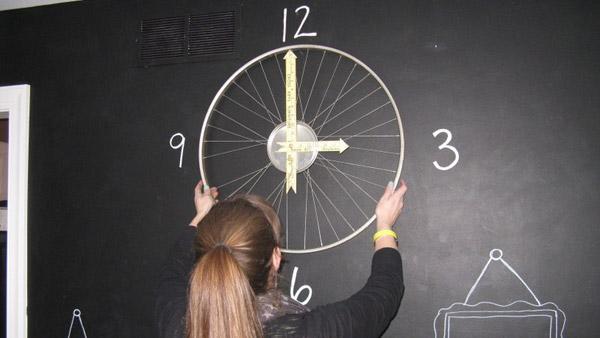 You can turn your old bicycle wheel into a fun and unique clock with these easy DIY tips!
1. Scrounge around your garage, father-in-law's barn (*ahem! Not that we've done that...) or stop at your local bike shop and find the perfect wheel. If it's not the finish you want -- never fear -- spray-paint it to the desired color. Our wheel was a little too beat up, so we touched it up with a bit of stainless steel spray-paint.
2. Attach your clock mechanism (which can be purchased at any craft store) to the center spoke of your wheel. Be sure to get the right mechanism -- it needs to be designed specifically to power big hands!
3. Grab a paint can lid and drill a hole smack-dab in the middle of it and place it over the clock mechanism.
4. Cut your yardstick hands according to the size of your wheel -- one long hand and one short hand. For added interest, notch out a triangle at one end and attach another triangle to the opposite end to create an arrow. We lucked out and found a vintage yardstick with local markings at our favorite salvage place.
5. Drill holes in the ends of your arrows and slide over the center spoke of your wheel, making sure there is a space between the two hands so that they turn properly (we used the parts from the clock kit to help here).
6. Add weights, if necessary to the backs of the yardstick hands to keep them properly balanced. The amount of weights needed is dependent on the weight of your yardstick hands.
Woohoo! You now hold in your hands one of the coolest clocks around. This is repurposing at its finest, folks!
If you want more information about this project or any of the other projects in this room, check out Jess and Monica's blog, East Coast Creative!