Knock It Off!
Monica Mangin
Co-Host of Knock It Off!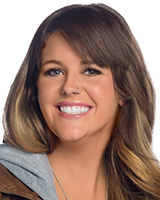 Monica Mangin is co-author of the popular Design and DIY blog, East Coast Creative. As a wife, mom to four kids, and owner of a dog, cat, and two ducks, she lives in what she calls "controlled chaos."
Monica loves being surrounded by people and strives to make her own home a gathering place where friends and family know the door is always open! She co-hosts the Live Well Network's 'Knock it Off!,' where she and her best friend and blog partner, Jess, show homeowners how to DIY their way to having the home of their dreams, without breaking the bank. Known for being super outgoing, somewhat sassy, abnormally ambitious, and thriving on creativity, Monica hasn't met a space that she wasn't willing to tackle (with her BFF sidekick of course!)
Monica and Jess made regular appearances on The Nate Berkus Show in its last season. It ignited their passion for inspiring people to take some design risks and work with what they have to create amazing spaces. Since then, the blogging duo have been featured in HGTV Magazine, Ladies Home Journal, on Fox 69 News and Philly Burbs.com; their blog has been awarded the Best Blog of Philadelphia by CBS.
Monica is passionate about keeping things real, in her design and life. She loves inspiring people to try something new, take a little risk, and not to be afraid of color (she loves bold color!!) She believes that your home should be a reflection of you and your family and that means it will be uniquely yours. Whether it's painting a piano green, hanging empty picture frames, or adding a cheeky phrase, Monica's design style is guaranteed to be unique and inspiring!