Recipes
Grilled Salmon with Herbed Cucumber Salad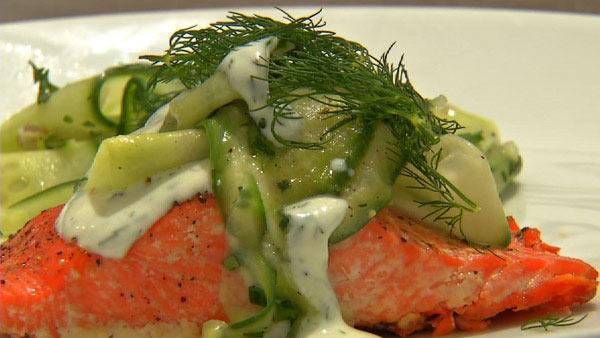 Servings: 4
Time:
Provided by: Maria Hines
1 cup plain whole-milk yogurt
1 tbsp. chopped dill
2 tbsp., 2 tsp. extra-virgin olive oil
2 tsp. fresh lemon juice
1/4 tsp. kosher salt
1/8 tsp. freshly ground black pepper
1/2 lb. cucumbers
2 tsp. each chopped chives and flat-leaf parsley
11/2 tsp. minced shallot
3/4 tsp. fresh lemon juice
1/8 tsp. each kosher salt and freshly ground black pepper
4 sockeye salmon fillets (each 5 to 6 oz., 1/2 to 1 in. thick), with skin
Dill sprigs
Directions
1. Make sauce: Combine yogurt, dill, 1 tablespoon olive oil, 2 teaspoons lemon juice, 1/4 teaspoon salt and 1/8 teaspoon pepper in a bowl. Cover and chill until used.
2. Prepare a charcoal or gas grill for direct medium-high heat (about 450 degrees; you can hold your hand 5 in. above cooking grate only 4 to 5 seconds).
3. Make salad: Cut cucumbers lengthwise into paper-thin strips, preferably with a mandoline. Put in a bowl with chives and parsley and shallot; chill until used. In another bowl, mix 2 teaspoons oil,3/4 teaspoon lemon juice, 1/8 teaspoon salt, and 1/8 teaspoon pepper pepper; set dressing aside.
4. Prepare salmon: Rub all over with oil and sprinkle all over with salt and pepper. Fold a 12- by 20-in. sheet of heavy-duty foil in half crosswise. With a knife tip, poke dime-size holes through foil about 2 in. apart. Oil one side of foil.
5. Set foil with oiled side up on cooking grate. Set fillets slightly separated, skin side down, on foil. Grill, covered, until fish is barely cooked through, 7 to 12 minutes. With a wide spatula, slide fish from skin to a platter and tent with foil. If you want crisp skin, continue to cook skin on foil until crisp, 2 to 3 minutes more. Remove foil from grill, then gently peel off skin, using your fingers or a wide spatula (skin may break into pieces).
6. Set crisp skin, if using, on plates and set salmon on top. Discard any liquid from cucumber mixture, then quickly toss mixture with dressing and mound on fish. Garnish with dill sprigs. Serve immediately with yogurt sauce (salmon skin will soften as it stands).
Tips for Cucumbers:
Cucumbers play a major role in both of these recipes from the Sunset Edible Garden Cookbook. Here are some tips from the book about getting the most from your cucumber crop:
Why to grow them: Store-bought cucumbers often look like they've been long off the vine and allowed to grow much too big, resulting in a greater seed-to-flesh ratio and a loss of flavor. Growing your own gives you access to super-fresh cucumbers, and means you can pick them at the right time in their development: when they're small, crisp, and full of flavor.
Refrigerate whole cucumbers in a plastic bag for up to one week.
There are several different kinds of cucumbers, and they all taste a little bit different. Start buying different brands at your local produce market or speak with a produce specialist to narrow down what you like.
Some of Sunset's favorite slicing varieties: Amira, Armenian, Diva, Marketmore 76, Suyo Long
Make sure cucumbers will thrive in your backyard. Unfortunately, cucumbers can't grow just anywhere! They grow best in a place that's consistently 70 degrees or warmer.
Cucumbers love water! More than most vegetables, cucumbers need to be consistently moist, especially after they begin to bud and grow leaves.
Growing your own veggies is always best when you have good compost or fertilizer to help it along. You can buy it from your local hardware or gardening store.
If you're not an experienced planter, you can skip this step, but cucumbers are known to yield 2-3 times more when they're growing vertically on a trellis or a pole.