Home with Lisa Quinn Episodes
Wine Country Dining Table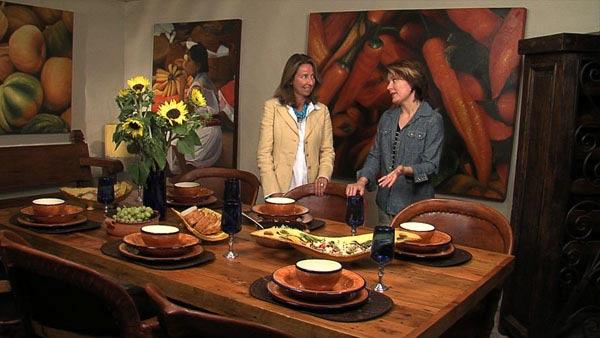 Looking to change things up for your next gathering? Check out how to set up a wine country dining table.
Salsa Trading Company is the home of 'Salsa Style' ~ reflecting a return to the basics where families live, dine, and entertain at home. The feel is very comfortable, spacious and welcoming where you are free to rest your feet on the coffee table, sip wine on the sofa, or lose yourself in an oversized club chair.
Salsa Style is more than a look; it is a lifestyle. Salsa reflects California's heritage by mixing the flavors of Spanish Colonial and Early Ranch with Native American and Mexican influences, it emphasizes craftsmanship captured in timeless one of a kind handmade pieces.
To decorate the perfect Sonoma style table, leave off the tablecloth for a more casual appearance. Keep dishware simple. Add sparkle with pewter candlesticks. Add flowers.
Guest:
Edna Needleman
Salsa Trading Company
http://www.salsatrading.com/