Home with Lisa Quinn Episodes
Web Exclusive: Curtains for Odd Window Shapes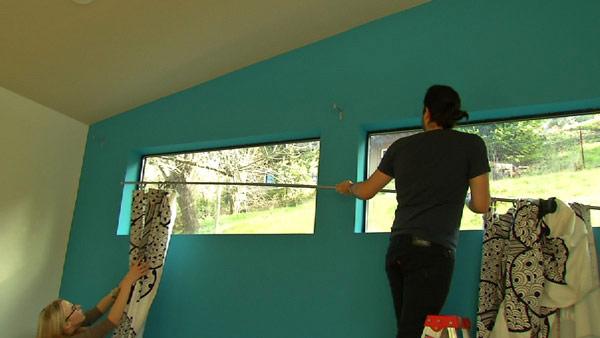 Lisa Quinn shares her secret to creating curtains for odd windows.
Solving the Odd Window Dilemma:
Putting curtains on high decorative windows can be costly. Usually they have to be custom made.
Lisa shares an idea for making your own curtains that won't cost you a fortune.
Lisa bought material at IKEA. The material has a real modern look to it. The windows in this makeover are 10 feet high. So Lisa cut the fabric about 12 feet. She then sewed a simple seam. Your curtain rod should be put up high above your windows and your curtains should fall all the way to the floor. Lisa then used curtain clips to attach the material to the rod. The curtains are a nice touch to the room and can block out some sunlight.