Home with Lisa Quinn Episodes
The Judges Weigh In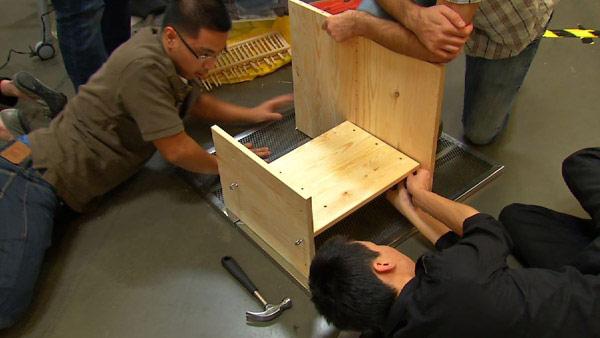 The judges decide who will win first place. It's a close competition and a tough decision.
The judges thought Team Lyndsie's idea was very clever and unique.
"This is our take on a portable garden station for an apartment liver. Something they can put on their porch and have a green house situation for small young planets and then a larger situation on the outside for more full grown plants. The grating on the bottom makes it so it is easy to water. There are wheels on the bottom so it can move around the porch. Really it is just a simple solution for an apartment dweller that wants some green in their life," said Lyndsie.
Team Lyndsie used two metal shelves for the bottom of the green house and they used a picture frame for the top that opens and closes. They had a challenge finding the hinges to make the top open and close.
"Hinging was a big problem. We wanted the glass for the roof to be able to lift up so you could set plants under it and finding a makeshift way to make a hinge was really interesting because we couldn't go to the cabinetry section. We had to use everything in the marketplace. We grabbed a dish rack at first because it had two hinges and we took that apart to use it but it wasn't strong enough so I resorted to something I have previously done at home with projects. I used a fabric hinge where you hot glue and then staple the frame on both sides. You use the fabric as your bend point, basically," said Lyndsie Ross.
The judges thought Team Katrina's kids' nook was cute.
"We had a children's place station and activity nuke. We could have a child sit there, it is comfy. They can read their books or play with any of their crafts. We have paint brushes," said Katrina Stumbos.
Team Devon's outdoor bar was functional and fun.
"We have a patio, outdoor multifunctional, kind of a beverage bar. You can serve food, almost like a buffet. We have a hanging wine rack here. You can have your beverages. We also have shelving but you can also hide it if you had a little clutter there -- just some different shelving," said Devon Page. "We wanted to have multiple levels which was a little ambitious. We wanted to mount things on them but we couldn't figure out what backing to use without being able to use any furniture or anything and making things that we could mount things into was awful so we had to do more of a stacking and we didn't get to do as much mounting of wine racks and that kind of stuff but we found other things that worked. I was really proud of our piece."
Team Peggy also created a bar but it was a little more contemporary.
"We flipped 'the original table' upside down and added a glass rack," said Team Peggy. "The mirror gives it a little bit of class. We didn't have time to put any color on it so we thought that would give it some sophistication. We thought you could use it for a bar or side table in your dining room.
Team Peggy did run into a little bit of trouble.
"We went to stand up the bar and not only did one of the casters fall off but one of the casters wasn't nailed it all the way or screwed it, it was just a 'big' gap in the wood. So we had to flip it back over and we were trying to hammer it down and the wood split. We were like oh, my goodness what is going to happen? So we just hot glued the casters," said Peggy.
Team Nicole created a message center for those people on the go.
"We decided to go with a message center -- mostly you would put it in your entrance or hallway and our theme was kind of loft, small space. They don't have time to read everything so just little post its and stuff. And for your keys, most people lose their keys, so we have got a little spot for you to hang up your keys," said Maritza Neri.
They finished their project very quickly.
"It was so funny because we done and we had 10 or 15 minutes left and we were like oh my gosh what could we be doing right now. What could we add but we didn't want to add anything because less is more kind of thing. At the end we got a rug and a little trash can to go with the project but we were done so we were not stressing out at all," said Neri.