Home with Lisa Quinn Episodes
Recycling Materials for Innovative Decor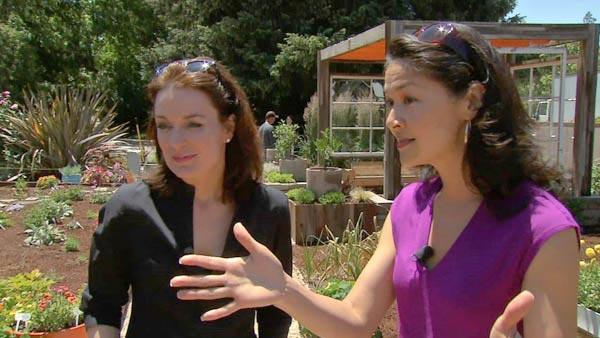 Sunset Magazine showcases lots of trendy decor made out of recycled materials. Julie Chai, the Senior Garden Editor, gives us a tour of their edible plant collection.
Lisa Quinn meets Julie Chai, the Senior Garden Editor of Sunset Magazine. Julie gives us a personal tour of Sunset's trendiest new designs, including their theme of decor made from recycled materials. High-end outdoor decor may not be as expensive as you think!
Check out some of their innovative ideas:
A pathway made entirely out of recycled materials like wine corks, whipped cream tops, and more. This is a creative alternative to the traditional gravel.
McKenna Landscape created a high-end outdoor living space that looks like a fancy greenhouse. It's made of salvaged windows and recycled products, with a bright orange ceiling to brighten up the shaded space.
A Terra Trellis is a round arch to grow plants vertically, but it also serves as a beautiful archway in the middle of the garden. They come in several bright, modern colors to be the statement piece to your garden.
An edible plant garden showcasing artichokes, alpine strawberries, and more. What's special about this plant garden is that it grows vertically on the walls to turn a small backyard space into a lush planter's haven.
Planter table made from a recycled shipping palette.
The Sunset western garden collection is a collection of beautiful low-care plants hand-selected from the Sunset Magazine garden team.
Create Your Own Edible Garden:
1. Choose the right site: Whether you grow your edibles in their own plot, in pots, or mixed among other plants in your existing landscape, make sure to give them a location that gets 6-8 hours of full sun per day for the best production and flavor.
2. Provide Good Soil: Healthy gardens start with healthy soil, and most crops want to grow in ground that's rich, fertile, and well draining.
3. Water well: In general, edibles need moist, but not soggy, soil throughout their life span. For newly planted vegetable seedlings, this could mean watering 2-3 times a day depending on the weather. As the plants grow and their roots reach deeper, you can water less often.
4. Fertilize: Edible plants pull nutrients from the soil, water, and air. But while they are growing, they generally need a supplemental boost, especially if they're grown in containers. We recommend using organic fertilizers, particularly for edible gardens.
5. Choose what to plant: To get the most from your time and effort, it's a good idea to plant crops that you know you like and will eat, along with a few surprises just for fun, and only as much as you have space for.
6. Grow from seeds or transplants: Once you've decided which crops to grow, you can either start them from seeds or transplants from the nursery. With seeds, you can order exactly what you want online if your local nursery doesn't have what you're looking for. Transplants are more expensive, but they have the advantage of being ready to plant right away.
7. Mulch: Placing organic or inorganic material over the soil surface around plants or on pathways reduces evaporation, insulates soil, and prevents weeds from growing.
8. Manage pests, diseases, and weeds
For more detailed guidelines, see the Sunset Edible Garden Cookbook, The New Sunset Western Garden Book, or the Sunset Western Garden Book of Edibles or visit their website at www.sunset.com.
For more information:
Julie Chai
The Sunset Western Garden Collection
McKenna Landscape
Terra Trellis