Home with Lisa Quinn Episodes
Organize Your Pantry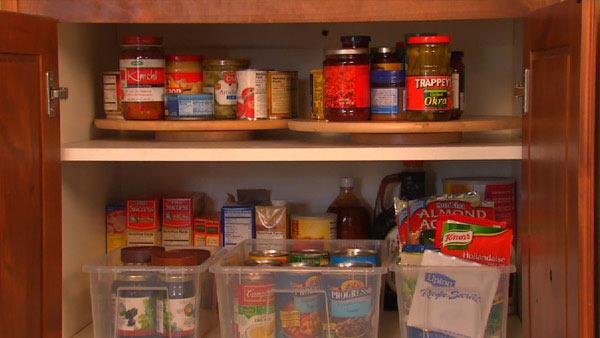 Lisa Quinn reveals easy tips to get your pantry organized.
Organize your Pantry:
Use clear containers for cereal and pasta
Use a wire basket for things like popcorn
Store like items together
Create a baking kit
Create a taco night kit
Use a dish rack to store pot lids
Use tension rods to separate trays, cutting boards and pots
Use a shoe rack to store granola bars
Try a lazy Susan for small items
Take everything out of your pantry
Clean your pantry shelves. Wipe away the crumbs.
Expiration Dates:
Canned Food, 2 to 5 years
Cereal, 6 months
Spices, 6 to 12 months
Flour, 3 to 6 months
Grains and legumes, 1 year
Dried herbs, 6 months
Condiments, 1 year
Organize your Kitchen:
Get rid of anything you don't use.
Replace things that don't work.
Use a utensil jar to store matches, birthday candles and other small items
Make sure everything taking up space in your kitchen is something you use regularly. If you don't use it regularly, consider creating a bin in your garage with your special occasion pasta machines, fondue makers etc...
Store knives near the cutting board in your food preparation zone.
Keep all your pots, pans, pot holders, spoons, and spatulas close together
Keep your baking items together
Organize your serving items in one place. Keep napkins, serving dishes, table cloths and other similar items together
Keep your cleaning supplies in one place. Make sure it it locked in a cabinet or stored on a high shelf if you have kids.