Home with Lisa Quinn Episodes
Lisa Meets Jae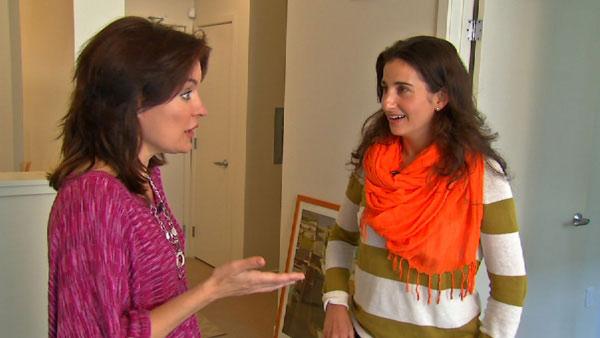 Lisa Quinn meets homeowner Jae. Jae hopes Lisa can create a design theme around her favorite colors, orange and green.
Living Room Decor Tips:
The living room should be a warm and inviting space. A place where you can relax after work. It should also be a welcoming and comfortable space for entertaining.
Usually you want to place your couch so that it is facing the entrance to the room. If you need to put its back to the door, place a console table behind it with art books & lamps to give it a more welcoming feel.
Invest in a nice rug for the room. It should also fit your needs for the space. If there will be a lot of foot traffic consider a large sisal that can handle it. If you want a cozy feel, go for a wool or shag rug.
If there is a large grouping of furniture on one side of the area, create a new seating arrangement on the other side to balance it out.
You can create a cozy feel add oversized pillows and a soft blanket to your couch.
Avoid clutter. Keep your knick knacks to a minimum.
Frame your favorite paintings and pictures. You can use different frames but keep them the same color. Framing your pictures and art will give them a polished and finished look.