Home with Lisa Quinn Episodes
Let the Shopping Begin for the IKEA Design Challenge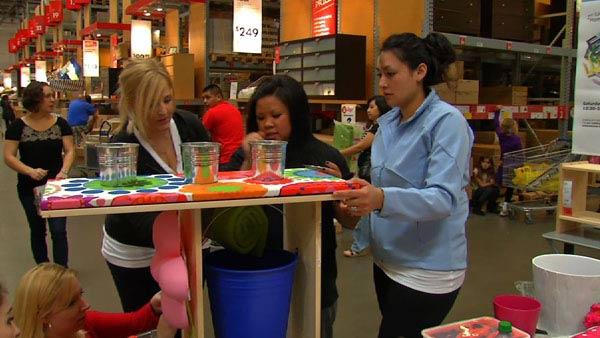 Design challenge teams race through IKEA to find items they need to create their final product.
Team Lyndsie -- the defending champions of the past two challenges -- created a small portable greenhouse. It's perfect for an apartment with a small balcony.
Team Devon created an outdoor bar. It's a great way to entertain with storage for wine bottles and anything else you might need.
Team Peggy created an indoor bar. The contestants used mirrors on the top of the bar to give it more of a sophisticated feel.
Team Katrina created a kids' nook. It has a seat for a child to relax and read. It also has storage for their artwork and toys.
Team Nicole created a message center. It's for the on the go person who wants a place where they can keep themselves organized. It includes a board to post messages and a place to keep your keys.
For tips on how to build your own bar visit barnonedrinks.com.
And, to learn how to create your own message center visit homemadesimple.com.
Great Places for Kids' Decor: