Home with Lisa Quinn Episodes
Inspiration from a Designer Showcase Home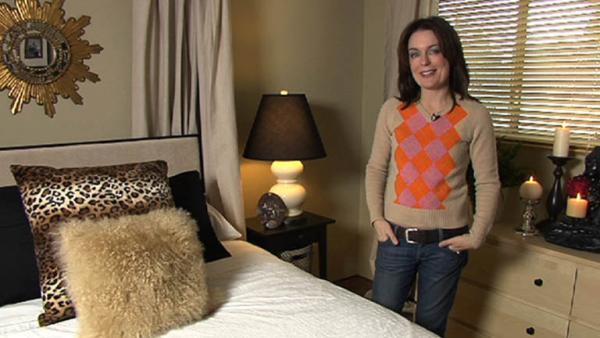 Lisa Quinn visits the Marin Designers Showcase Home in Belvedere, California, for inspiration. She found a bedroom in the home by designer Cecilie Starin that is stunning and luxurious. Lisa plans to pull off the look for less in Julie's bedroom.
Bedroom Makeover Tips:
1) In a small room, the use of an interesting rug may make up for the absence of accessories and colorful artwork.
2) Use anti-slip underlays in order to keep any rug in place.
3) Chairs without solid backs ("airy spaces" with bars between) can make them appear as if they aren't taking too much space
Picture Perfect:
1) Mismatched frames can make a room seem very busy. To keep frames less distracting, use the same color frame or same kind of frame.
2) Putting pictures in matching frames can create a more peaceful look.
3) Using mattes in frames take away the 'busyness.'
Dry Brush Stencil Technique:
1) Purchase a stencil from Michael's
2) Choose a paint for your stencil design that is 1 shade lighter than the color of your wall
3) Get a little bit of paint on your pouncer brush (small round sponge brush with a flat surface)
4) Dab brush on paper towel to get extra paint off
5) Dab brush over the stencil unevenly. The more uneven it is, the better it will look. The end result should look worn and vintage.
For more information on the crew:
Painting- Varsitypainting.com
Paint- Kellymoore.com
Furniture Assembly- Konkordassembly.com
IKEA- IKEA.com
Junk Removal- 1800gotjunk.com