Home with Lisa Quinn Episodes
Guest Room in a Basket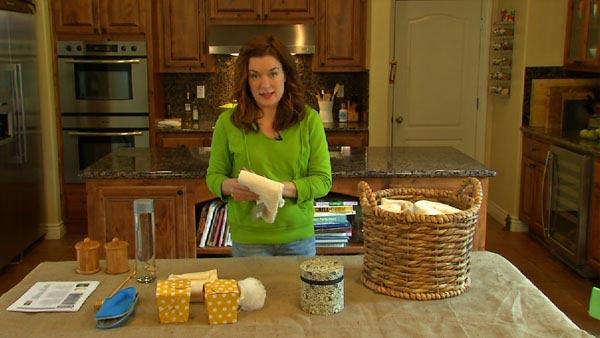 Lisa Quinn shows you an easy way to prepare for your visitors. Create a guest room in a basket.
Guest Room in a Basket:
Include 2 towels, wash cloths and a hand towel
Pack shampoo, soap and bath salts in a cute box
Include refreshments like pretzels, nuts and candy
Add a bottle of water
Include slippers if you enforce a no-shoe rule in your home
Add some fun with a novelty item, like a back scratcher
Include a map of tourist attractions
How to ge a Good House Guest:
Be specific with dates of when you will arrive and depart.
Bring a small gift for your host and hostess. You could bring a bottle of wine, chocolates, fruit, flowers, etc...
Let your hosts know your plans early on.
Don't overstay your welcome.
Keep your guest area very neat. Make your bed and put your laundry away.
Clean up after yourself. Don't leave dirty dishes in the sink.
Make sure you shower when it is convenient for your host. Your host may have to get to work, and will have to plan your shower around their schedule.
Don't keep your hosts up late.
Always offer to help make meals.
Offer to help pay for groceries if all the meals are being made at the home.
Make sure you can entertain yourself. If they have a busy schedule, they may not be able to spend all of their time with you.
Leave a thank you note and even a gift when you go.