Home with Lisa Quinn Episodes
Get Sparkling Clean Windows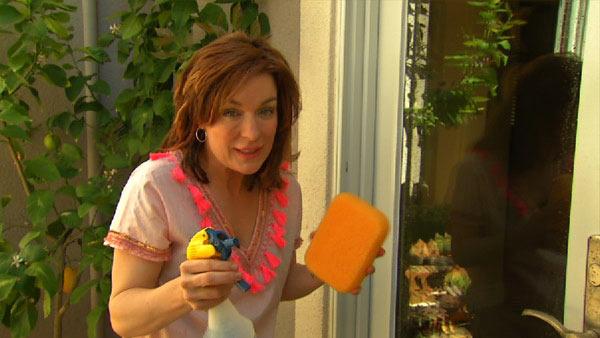 Lisa Quinn shows you how you can get sparkling clean windows. Learn some easy steps that will really make a difference.
Washing Windows 101:
Use hot water and white vinegar
Use a 16 inch squeegee
Find a feather duster or paint brush
You'll need a good size sponge
Use a microfiber cloth for drying
Use paint brush to get rid of dirt
Hose down window
Use your cleaning solution
Clean window with a sponge
Make sure your squeegee is wet before you use it
Use an up and down motion for cleaning
Finish up with a microfiber cloth
Tips on Cleaning High Windows at your House:
A professional squeegee is the best item for cleaning those hard to reach windows. You can find one at most hardware stores.
Make sure you get an extension pole for your squeegee.
If you don't have an extension pole with a sponge on the end, you will need to also pick up a sponge. Make sure you can use the sponge at the end of the pole as well.
Dip your sponge into a cleaning solution and start at the top of the window.
Make sure the whole window is wet.
Now use the squeegee and repeat the process.
If your windows are really high you might need a ladder. Make sure someone can help you and hold the ladder.