Home with Lisa Quinn Episodes
Elegant Flower Arrangement for Your Party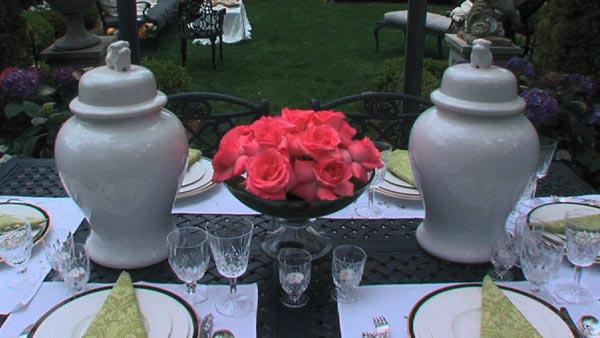 Mark Milkint creates an elegant flower arrangement. It won't cost you a fortune, and it will really impress your guests.
Steps to creating an elegant rose arrangement:
By Mark Milkint , Event Planner/Designer
Use a clear glass bowl or container -- any kind will suffice.
Head outside and find some great foliage with large leaves.
Line your bowl with the leaves and place a water-absorbent design foam brick in the center of the bowl. Design foam can be purchased from craft stores for about $2.
Use one type and color of flower for a more dramatic look.
Strip all the foliage off the roses.
Remove the petal brackets and any guard petals.
Fold back the petals and blow in the center of the flowers to open them up.
Cut each rose to desired length.
Insert roses into design foam. Start from the outside and work your way in.
And, your spectacular arrangement is complete!