Home with Lisa Quinn Episodes
Decorating with Vintage Signs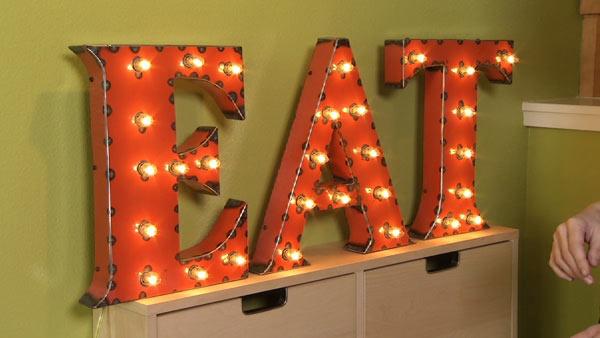 Lisa Quinn adds a playful touch to the room by including a vintage EAT sign in the space.
How to make an EAT sign:
1. Pick a size for your letters. The bigger the letter, the more visual impact. The font you choose shouldn't be too ornate because it will be more difficult to cut. You can print out the letters actual size and then trace them onto your plywood, or you can free hand it with a pencil. 1/8"-1/4" thick paint grade plywood will give you the best results and is relatively in-expensive.
2. Next, cut out the letters you just traced with a jigsaw. Use a sharp, new blade each time to keep edges crisp. Any jagged edges can be smoothed out with a wood rasp or a sanding block.
3. Apply the gold leaf foil to the letters with a soft paint brush. We applied it just to the front of the letters and painted the side profiles black to make them pop. Slightly over-lapping the gold leaf foil will give you a richer look with less of a chance of tearing the foil sheets.
4. Go over the letters a final time and make sure the foil is properly adhered. Double check the angled areas of letters and corners to make sure they are crisp. You can use a black sharpie marker to fill-in missed spots.
5. Hang the first letter of the word at the height you would like it on your wall. Using a level will ensure that the next letters in the word will be at the right height. Standard picture hanging hardware (nails and hooks) are what we used. A pencil line is super helpful as a guide for where the tops of the letters should all hit and can be erased later.
6. Stand back, enjoy and EAT!
For more information on the crew:
Painting- Varsitypainting.com
Paint- Kellymoore.com
Furniture Assembly- Konkordassembly.com
IKEA- IKEA.com