Home with Lisa Quinn Episodes
Customize Your Furniture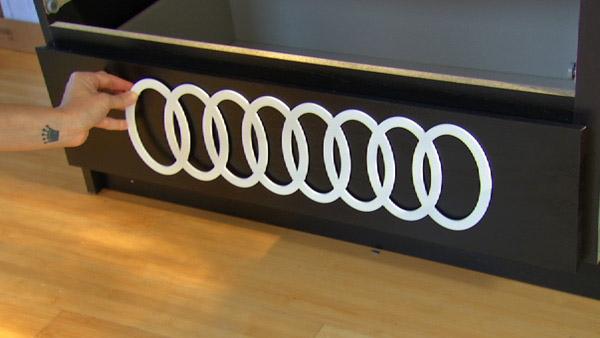 Lisa Quinn shares an easy way to dress up your furniture and give your basic pieces a high-style look.
Dress up your furniture:
To add even more interest and a little more shine, Lisa found this great company called "myoverlays.com" that makes laser-cut stencils and appliques for IKEA furniture. They are made from pvc substrate and are in-expensive way to give otherwise basic looking pieces more depth and a whimsy feel. They can be custom cut to your needs and come in a wide variety of styles and shapes. Here are the steps:
1. Take note of the piece of furniture you wish to modify. If it's an existing piece, check to make sure that sizing is consistent. If you will be purchasing a new piece, especially an IKEA piece, visit the site's photo gallery for inspiration.
2. The overlays are thin and can be painted and adhered, or can be used as a stencil. We chose to spray paint ours gold to work with our theme.
3. Next, we applied a small amount of wood glue to the backs of the overlays and eyeballed them into place on the drawer fronts. We used wood glue that dries clear so any mistakes would be invisible. myoverlays.com also recommends using small brad nails or adhesive tabs in the corners to keep thing in place as the glue dries. We then stacked heavy books along the top of the drawers and let them dry over night.
4. Afterwards all we did was pop them back into place and admire the results. It was a very easy and quick way to give a basic piece of furniture a high-style look.
For more information on the overlays visit myoverlays.com.
For more information on the crew:
Painting- Varsitypainting.com Paint- Kellymoore.com
Furniture Assembly- Konkordassembly.com
Junk Removal- 1800gotjunk.com
Furniture- IKEA.com
For more information about Big Daddy's Antiques visit www.bdantiques.com.