Home with Lisa Quinn Episodes
Creating an Elegant Living Room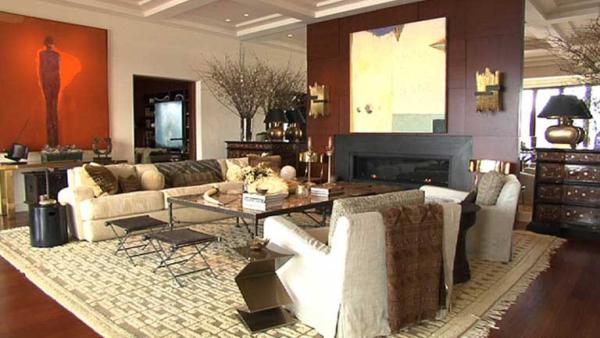 Lisa Quinn turns a dull living room into a modern space with some really fun touches. She used the living room at the Martin Designers Showcase Home in California as inspiration for her makeover.
Living Room Decor Tips:
In a small room, the use of an interesting rug may make up for the absence of accessories and colorful artwork.
Use anti-slip underlays in order to keep any rug in place.
If you have kids or pets, choose durable couches (leather or corduroy).
If your fire place looks dated consider painting it. It can make it look more modern.
Shopping for a Dining Room Table:
Before choosing a dining room table, remember to measure your dining room. Don't forget you will need space for the chairs and you should be able to walk around the table.
Chairs without solid backs ("airy spaces" with bars between) can make them appear as if they aren't taking too much space
A more rustic finish will hide the normal wear and tear of young family members.
Clear tables take up less space visually and work well in small spaces.
A round table usually takes up less space.
Creating a Beautiful Faux Flower and Twig Arrangement:
Buy long twigs (you can find them at many stores including IKEA)
Find pretty white paper flowers in two sizes (Michael's carries a selection of faux white flowers in their wedding section)
The flowers should have small wires on the back
Use the wires to wrap around the twigs.
Spread out the flowers and use two different size flowers. Don't use too many flowers, just a few for a delicate look.
Use the glue gun to keep flowers in place if needed
Cut your twigs to the desired size
Use a clear vase to place twigs in
You have a beautiful arrangement that will last and won't cost a fortune.
For more information about the crew:
Paint- Kellymoore.com
Furniture Assembly- Konkordassembly.com
IKEA- IKEA.com