Home with Lisa Quinn Episodes
A Sleek and Organized Spare Room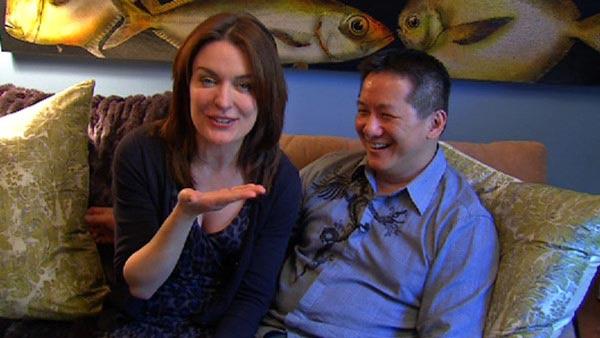 Lisa Quinn turns a cluttered spare room into a sleek and organized space.
Inside Scoop for Spare Bedroom
By Fabian Scrivani
This week on Home with Lisa Quinn, our focus was to bring organization and style to a cluttered spare room serving many purposes. Our homeowner Frank is a busy working professional who uses the room to watch T.V., read, get ready for work, and welcome overnight guests. The space is rather small, typical of spare bedrooms, but has great details like original wood flooring and a spacious closet. Frank's one request was to bring in more means of organization and offer storage solutions to get his things up off the floor and out of other rooms in the house.
One of the best ways to max out storage is to have an organized closet. There was a spacious closet in the room to work with, but it only offered one bar to hang things off of and a shelf that frankly was too high to be practical. After a dramatic demo sequence, and IKEA's help, we were able to bring in a sleek modular solution with the look of an expensive built-in. TIP: The components come in many sizes and heights, and it's important to keep in mind what you are trying to store when you go to purchase pieces. In Frank's case, he had a lot of shirts and blazers for work and an ample shoe collection. Choosing baskets for things that need to be folded like sweaters and extending clothes racks for things that hang can double or even triple the amount of space you can get. We removed the closet doors to give much easier access to the closet, giving us the option to hang curtain panels to soften that corner of the room.
Time to talk wall color. A soothing, masculine slate blue adds depth to the space and complimented the warm tan color of the sofa. The blue worked well with the existing wood floor and reads as a neutral that could blend with many other looks and styles. Deep colors absorb light and create a moody, quiet feeling, perfect for reading and watching T.V. We brought in a space-saving sleeper sofa in a comfy tan corduroy that pulls out into a full size bed. TIP: Typical sleepers pull out into queen size beds, so this option saved us almost 12 inches around the entire sofa for other pieces of furniture.
Speaking of which, we used laptop tables as end tables that we picked up at Cost Plus World Market. They are sleek and can be pulled next to and tucked under the sofa when not in use. A tall bookcase behind the door keeps books and magazines off the sofa. A new floor lamp with an articulating arm can be positioned in just the right spot to shed new light on a good book. A shag rug adds warmth and texture underfoot and grounds the seating area. Two leather ottomans serve as a coffee table and can easily be moved when guests come. A sleek and low entertainment center sits opposite the sofa and houses the T.V. without taking up a ton of space. The coolest piece in the room has to be the quirky fish art that Lisa found at ZGallerie. We both loved the pops of green and yellow that picked up the tan in the sofa and the vermillion in our accent pillows. Plus, Frank's partner Sheldon loves to cook, so a nod to food via art would be a welcomed surprise for both of them.