Home with Lisa Quinn Episodes
A Glamorous and Modern Space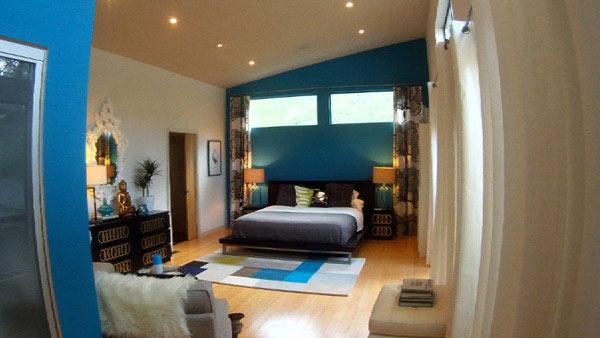 Lisa Quinn turns the bedroom into a high-end retreat, creating one of her favorite room transformations so far.
The Inside Scoop for a Master Bedroom
By Fabian Scrivani
This week on Home with Lisa Quinn, we brought high-end style and eclectic elements to complete our most sophisticated room to date! Our homeowners Anita and Eric recently completed an extensive renovation to their home. Re-models can often take a lot out of you and your wallet, and this was the case once again. Their new master bedroom suite looked awesome with its new wood floors and high ceilings, but lacked that personal touch everyone looks for that makes a room feel like part of a home. Anita has great style and is a fan of high-design looks, and asked us to give her room a bit of a lift. We were more than ecstatic to work in such a new space, and promised her a restful, put together and glamorous retreat.
The couple had an extensive collection of graffiti and street art with a very contemporary, tongue-in-cheek kind of look-- which we loved!-- and this was the starting point for our color choices. We chose an electric turquoise as a wall color, but felt it would overwhelm the space in mass. Our solution was to make the color a focal point, hence choosing specific vantage points in the space to get the biggest impact out of it. The wall behind the bed was the first thing you see as you enter the space, so that was our first choice. Next, we chose to paint the wall that the closet and t.v. sit on. Spatially, it looked as if that set of walls created a box that sits in the room, sort of like a decorative object, so we treated it like one. The remaining walls we could have left the way they were, but we decided to freshen them up with a lighter shade of beige, almost a silvery white, that would look cleaner and tighter.
Let's talk furniture groupings. We were so lucky Anita and Eric had amazing foundation pieces to work with. They had a sleek and contemporary king size bed that took center stage in our plan. We brought in a set of night tables and a dresser with glass tops that we then added a decorative treatment to add interest. We created a new seating area where the couple once had an over sized sleeper sofa. Two new slipper chairs better filled out the space and the more neutral fabric worked better with our accessories.
OK-- here's the best part of the room -- the ACCESSORIES. Oh, man, I could not get over how fabulous everything looked when we were done! We took inspiration from one of Anita's favorite designers, Jonathan Adler. Lisa, Brittany and I took a trip to downtown San Francisco and were in designer heaven when we arrived at the J.A store. Seriously if we had the budget, we could literally furnish every room from here on out. The J.A. look is all about vibrant and colorful patterns that scream playful and chic. He often mixes different metals with otherwise crazy patterns and stripes, plays with graphic floral patterns, then throws in a whole lot of whimsy and a ton of lacquered color to create absolutely exquisite decorative accessories and furnishings. Brittany and I ended up getting a few things, then headed back to the room to get started while Lisa went off to see Michael Z. at Big Daddy's Antiques. While there, they created a pair of gorgeous lamps out of recycled water cooler bottles. Back in the room, we added over 20 yards of custom curtains to flank the bed and soften up the corners. A new white bookcase holds all of the couple's art books and keeps clutter to a minimum. A bold and colorful pixel rug sits at the foot of the bed. Over the new long dresser, we positioned an existing lamp and a few of our J.A. pieces. A fabulous baroque inspired white lacquer mirror and a gilded, mirror studded gold Buddha took center stage. In the re-vamped seating area, a marbled cowhide rug grounds the new chairs, while a natural stump table adds a quirky natural element. We hung the existing artwork gallery-style to keep the room feeling chic and a little edgy. A fresh set of sheets and a few new pillows on the bed finished everything off. My two favorites were a lime green zebra print that Brittany hand painted and sequin skull pillow that we found online.
During the final reveal, Anita and Eric we greeted by a group of their friends who were as overjoyed as they were with the results. They couldn't believe the results, and their expressions totally made my day and validated everything we had worked for. Upon further discussion with the crew, we are all in agreement that this has to be one of if not the most high-end rooms we have EVER done. It is my absolute favorite hands down!