Home with Lisa Quinn Episodes
A Funky Chic Living Room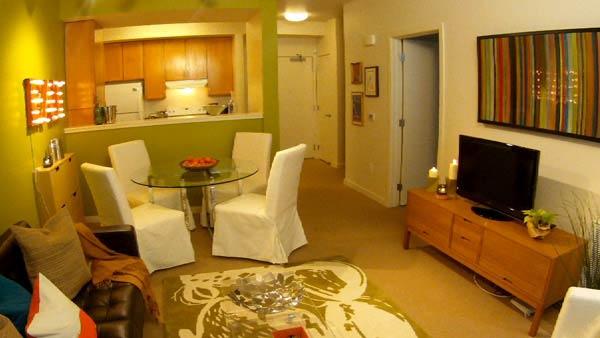 Lisa Quinn turns a bland living room into a funky chic space. It's the perfect sanctuary for the homeowner who needed her modern space warmed up.
The Inside Scoop for a Living Room Makeover
By Fabian Scrivani
This week on Home with Lisa Quinn, we bring a gathered, funky chic style to a bland living room in San Francisco. Jae is a nutritionist and food lover who needed a pulled together look in her home. Like many new home owners, the excitement builds when the place is finally yours, but then a case of the "so what do I do now?" sets it in. She had great funky pieces already. She had begun to decorate around her favorite colors, orange and green, so running with that theme was easy.
Lets talk wall color. Doing the color on all four walls in the living room may have worked if the shade of green we used was a little lighter. We were going for high impact, and an accent wall made the most sense for our purposes. The color is a rich limey-avocado that has a nod back to a 1970's vibe, but still feels fresh. Keeping the other walls white make the green appear brighter and lighter.
On to base pieces and existing furniture-- Jae had awesome pieces to begin with, so it was just a matter of the right accessories and layout to make everything work. A tufted black leather sofa was a great foundation for new pillows to make a more cohesive look. A fabulous rug from CB2 pulled in our colors perfectly. Her clear acrylic T.V. stand made a cameo as the perfect coffee table. A new T.V. unit in a honey tone from IKEA across from the sofa adds warmth. A streamlined, petite side chair in a contemporary silhouette provides extra seating. New upholstered dining chairs in a white twill fabric soften the hard edges on Jae's metal and glass dining table. A gorgeous new cabinet from IKEA next to the window brings architectural interest and a slightly art deco flair. It will be the perfect spot for Jae to house her extensive book collection.
Lets talk about art. The coolest pieces in this room have to be the lit EAT sign in the dining area and the super colorful wood strip artwork above the T.V. Vintage signs are my new favorite thing and are the ultimate accessory for that "shabby chic meets industrial" look. Here's the thing: they are EXPENSIVE and hard to come by. We were lucky this week though, as a little shopping around on Ebay lead us to a gentleman who fabricates new signs that have a distressed and vintage look. The fact that it is lit and orange sealed the deal for us and we knew we had to have it. The artwork above the T.V. brings a much needed splash of color to that side of the room. The piece is made up of individually painted and lacquered wood strips in neon colors that are built up to give dimension. The size was perfect as well, since we needed something substantial on that wall.