Home with Lisa Quinn Episodes
A Cluttered Spare Room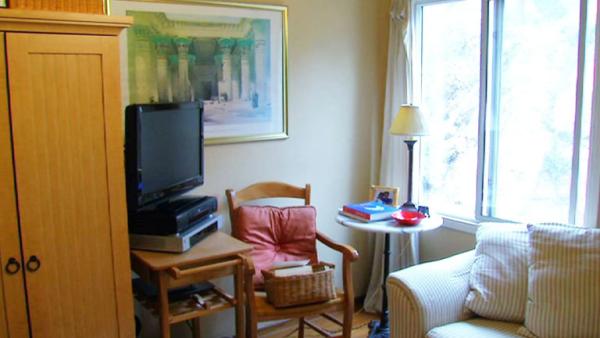 Frank and his partner Sheldon live in San Francisco. They are busy professionals with a beautiful home. They've remodeled most of the rooms inside their house except for their spare bedroom, which is in need of help.
The spare bedroom is used for their TV, guest and storage room. It's also the place where Sheldon likes to relax and read or watch television -- and it's the room where all of their clutter gathers. Lisa and the crew have their work cut out for them.
Spare Room Decor Tips:
It's not unusual for spare bedrooms to be neglected, especially if they are rarely used. But if the space is done up well, it can be a fantastic retreat.
You can make a room appear larger by picking a light paint color for the walls. The ceiling should be white.
Keep fixtures and knick knacks to a minimum in order to avoid clutter.
Mirrors can make a room appear bigger.
Make sure your furniture fits the size of your room. You don't want oversized furniture in a small space.
Consider lighter material when picking curtains Heavy material can cause a room to seem smaller.
Get Rid of Your Closet Clutter:
Try on all your clothes. Get rid of the ones that don't fit anymore or are in bad shape. And even if your clothes are in good shape, but you haven't worn them in two years, it's time to give them up. Pick out the clothes in good shape and donate. The others throw away.
Purchase matching hangers. Wire hangers are tough on your clothes. Get hangers that have a soft surface area that will keep your clothes in good shape.
If it's summer store your winter clothes somewhere else until you need them -- and visa versa.
Store your similar clothes together. For example, keep all of your slacks in one area.
Keep your accessories in a labeled box or basket.
Wall Art:
Find several personal photos and prints (generic photography)
It's always good to mix in prints with your photos so your gallery wall does not appear to busy.
Make sure all of your frames match or the mats are the same color.
Place your pictures approxiately one inch apart.
It's always good to arrange your pictures on a table first to see if you like the look.
Another nice touch is to frame fabric or another form of art and add to the mix.
Coffee Ring Art:
Pour a table spoon of coffee on to a plate.
Take empty paper cup and dip into the coffee.
Take cup and make rings on water color paper.
Use a nice frame and mat for it.
Mix in at least two of these framed coffee rings into your gallery wall for a fun, abstract feel.
For more information on the crew:
Painting-
Varsitypainting.com
Paint-
Kellymoore.com
Furniture Assembly-
Konkordassembly.com
Furniture-
IKEA.com