Home with Lisa Quinn
Lisa Quinn
Host of 'Home with Lisa Quinn'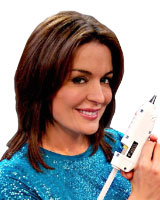 Lisa Quinn -- an Emmy award-winning TV host and best-selling author -- hosts Home with Lisa Quinn on the Live Well Network. On the half-hour series, Lisa makes over rooms on a budget.
Lisa is also a contributor to Better Homes and Gardens, Redbook, Life, PARADE, and ModernMom.com. She has appeared on Good Morning America, The History Channel, The CBS Early Show, HGTV and Oprah. She has designed sets for Nat Geo and the Discovery Channel.
Lisa's first book, "$500 Room Makeovers" features 20 complete room transformations--all for less than $500. Look for her latest, best-selling book, "Life's Too Short to Fold Fitted Sheets" (Chronicle Books). Available on Amazon.com.
A Memphis native, Lisa resides in the Bay Area with her husband and two children.