Grilled Summer Meals Competition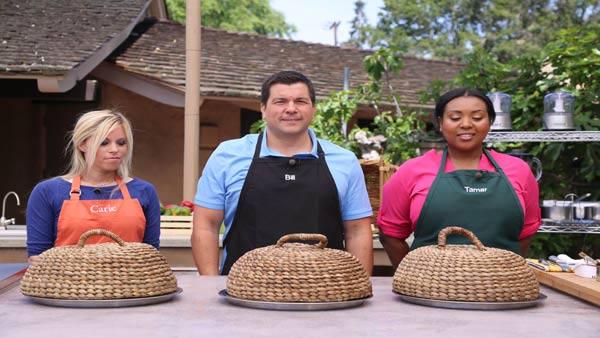 Three homes chefs from across the country are ready to prove who is the best behind the grill in Host Ryan Scott's summer meal competition. They are being pushed way outside their comfort zones as they face two grilling challenges.
Ryan chose three home chefs to compete in his summer grilling challenge. They're used to cooking and grilling at home, but now they're about to face off in a beautiful outdoor kitchen at Sunset Magazine's headquarters in California. The winner will walk away with a $1,000 gift certificate from Cost Plus World Market. First, let's meet the contestants. Carie Keller is a mom of three from Richmond, Virginia. She wants to be a better cook not only for the sake of tradition, but for her family's health. She is full of spunk and sass, ready to take on any challenge! Bill Pikus of Overland Park, Kansas, is married with three kids. He is a former sportscaster and co-founder of Grill Side Barbeque Sauce. He stays calm under pressure and keeps his eye on the prize. For more from Bill, visit
GrillSideBBQ.com.
Tamar Poyser is from Keasby, New Jersey and is married with a new baby boy. She dreams of becoming a professional chef and has won a couple of cooking competitions. She thrives under pressure and brings her A game! Ryan has come up with a fun first challenge, giving them eight minutes to make the perfect summer cocktail. They have access to anything in the pantry, but they must use the secret ingredient that's on the table in front of them. Ryan will be judging their creation based on taste, presentation and originality. The winner of the first challenge gets a big advantage for the second round -- getting to choose the main ingredient for that meal. So what's the secret ingredient for the first round? Ice! "I lift up the dome and I see ice, and I think 'What the hell am I supposed to do with this?'" said Tamar. The contestants race to the challenge, with Tamar hoping to make some sort of sweet tea drink, while Bill tries something blue and Carie hopes to make a strawberry daiquiri of sorts with a bit of spice. But time's up, and now it's time to see what they've come up with. Starting with Carie, Ryan tastes the Berry Spicy, a strawberry drink with some heat from jalapeno and cayenne pepper. Ryan likes the spice, but he says he doesn't get a lot of flavor from the alcohol. Next, Bill shows Ryan his Purple Berry Bomb, a berry drink with blue curacao. Ryan likes the taste and says it's something he could drink a lot of, but again, he doesn't taste much alcohol. Then it's Tamara's turn, and she shows Ryan her pineapple citrus ginger concoction, and finally, he tastes some booze, but doesn't give her high marks for presentation. They all did a great job, but there's one cocktail that Ryan says he wants to order on vacation sitting on the beach: Carie's Berry Spicy. This gives Carie a great advantage in round two, but first, it's time to meet the judges who will decide the winner. Chris Koetke is the host of the Live Well Network's Let's Dish. He is the executive director of The School of the Culinary Arts of Kendall College. For more from Chris, visit
livewellnetwork.com.
Margo True is the Food Editor at Sunset Magazine. True also co-edited Sunset's The Great Outdoors Cookbook; Adventures in Cooking Under the Open Sky released this year. She also was the main editor of The Sunset Cookbook, which was released in 2010. For more from Margo, visit
Sunset.com.
Each contestant brought a special ingredient from home to use in the challenge. Carie brought some spicy creole seasoning, Bill brought his Grill Side Barbeque Sauce, and Tamar chose her special blend of Jamaican jerk seasoning. Now, it's time for the contestants to get grilling, but first, they have to choose their main dish. Carie gets to choose because she won round one, and as she unveils the first choice -- a whole black bass fish. She decides to pass it off to Bill and see what's under the next basket. It's a whole chicken, which she gives to Tamar. The third basket reveals a rack of ribs, which are now Carie's to cook. The contestants have 60 minutes to make a family style meal on their Weber grill. Anything in the pantry is up for grabs for this cooking challenge. First, they rush to get the grills started, which some find easier than others. "Charcoal grill? I haven't even seen once since 1985, let alone cook on one!" says Carie. Tamar decides to make a Jamaican jerk chicken, and Bill feels confident in his grilling expertise, deciding to put his barbeque sauce on the bass. Carie is struggling with the charcoal grill and worries her food won't be done in time. With only a few minutes left, the contestants are doing their best to make their dishes taste great and look appealing, too. Now it's time to show their creations to the judges. Carie is first, and she's made some Creole seasoned ribs and corn, along with some garlic mashed potatoes. The judges are impressed that her ribs are cooked and like the seasoning, although they feel her mashed potatoes weren't the strongest part of her plate. Next, Bill shares his plate. He made a barbequed bass with fruit salsa, herb-buttered corn and a grilled vegetable salad. The judges love the flavor of his fish, but say he shouldn't have put food on top of it, since it took away the crunchy skin. They love the caramelization of his corn, but note that the large chunks of herbs aren't easy to eat. Last, Tamar shows the judges her culinary creation -- a jerk spiced chicken with mango salsa and corn infused with a ginger butter. The judges love her presentation, especially the corn, which she cut into little wheels and skewered onto bamboo. They like the spices on the chicken, but wish they were a little more intense. Margo loves the mango salsa and says it's her favorite part of the meal. Now, it's time for the judges to deliberate. They agree that Carie did well, especially considering how much she struggled with the grill, but feel the other contestants outshone her with originality. They were impressed with Bill's control during the entire challenge, as well as his meal. They also enjoyed Tamar's plate, and Margo admits she can't stop eating her mango salsa. It's too hard to decide between these two great meals, so the judges decide to make two winners: Bill and Tamar. "I think I'm pretty proud of myself," says Bill. "I came here to compete and win, and I accomplished both of those goals, so I feel pretty good about it." "I am so proud of myself for winning," says Tamar. "I'm a new mom. I have a nine month old baby, and I still was able to come here and really give it what I got." For more information on Cost Plus World Market visit
worldmarket.com
. The contestants cooked on
Weber Grills
.