Grilled Appetizer Competition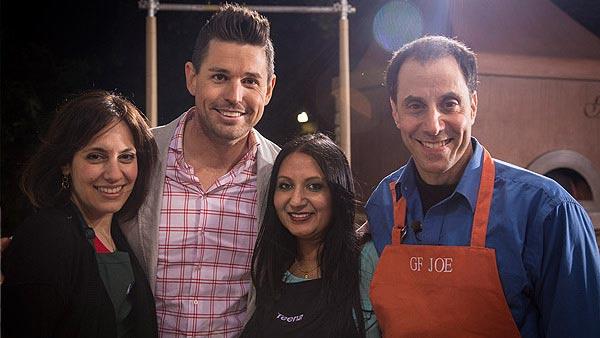 Three home chefs are facing two challenges with only one way to cook -- on a grill! Who will make the best summer appetizer and walk away as the winner?
Chef Ryan Scott chose three home chefs to compete in his grilled summer appetizer challenge. They're used to cooking and grilling at home, but now they're about to face off in a beautiful outdoor kitchen at Sunset Magazine's headquarters in California. The winner will walk away with a $1,000 gift certificate from Cost Plus World Market. First, it's time to meet the competitors. Antigoni Sander McCloud is a co-owner and manager of her family's restaurant, Kafe 421, in St. Paul, Minnesota. She has appeared on the Food Network battling Chef Alan Wyse in the Chairman's Cooking Challenge. For more from Antigoni visit her website
AntigoniSanderMcCloud.com.
Next up is Joe Camerieri, better known as GF Joe. When Joe discovered he was gluten intolerant 17 years ago, his diet and recipes changed as a result, and now he cooks entirely gluten free. He made it to the final cut for the American Baking Competition last year. In his spare time he loves swing dancing, playing ice hockey and building stuff. For more from Joe, visit
GFJoe.com.
And the third contestant is Teena Arora, a single mom from San Carlos, California. She's also a vegetarian and is passionate about a plant-based diet. Her family is in the restaurant business, and that's where she developed a passion for cooking, especially Indian food. She's got a knack for spicing things up! For more from Teena, visit
CurrySutra.com.
Each contestant brought their own special ingredient from home to use in the challenge. Antigoni brought a special Greek oregano that comes from her mother's home village. Joe brought corn flakes, a gluten-free substitute for bread crumbs. And Teena brought paneer, an Indian farmer's cheese that's very versatile. Next, Ryan explains the rules of the challenge. There are two rounds, and each contestant can only use their special ingredient in one of the contests. In the first challenge, they'll have 20 minutes to create a cold plate appetizer using all the secret ingredients on the platter before them. They also have access to a pantry full of other ingredients. The winner of round one gets five more minutes to work on their culinary creation for round two. It may not sound like much, but five minutes can be the difference between winning and losing. "I want that extra time," says Teena. Ryan gives these chefs the go ahead, and they reveal the secret ingredients they'll use in this round: grape leaves, Greek olives, sundried tomatoes, mortadella, chickpeas and sesame seeds. Their final creation will be judged on taste, originality and presentation. The contestants rush to create an appetizer and struggle with the secret ingredients. GF Joe wants to make hummus, but doesn't know the recipe by heart. Teena is a vegetarian, so she's unsure of what to do with mortadella, which is meat. Antigoni decides to save her special Greek oregano for round two, hoping the sundried tomatoes will offer her dish enough flavor to please the judges. Ryan calls time, and the contestants have to present their dishes, whether they're ready or not. Ryan heads over to Antigoni's station and she presents her first dish: a Mediterranean tartare to spread on bread. Ryan's impressed with both her originality and the presentation of the appetizer. He also loves the taste, with plenty of tang and flavor. "I'm really happy with how it turned out," says Antigoni. "Starting it, I didn't know what it was going to turn into, but then I had that light bulb moment to turn it into a tartare, and it all came together." Next, Ryan moves onto GF Joe who put the mortadella together with the crackers, olives and sundried tomatoes, and then created a dip with the chickpeas and mayonnaise. Ryan likes the crackers, but isn't impressed by the chickpea mixture. "I added salt to cover up the mayonnaise taste, but that didn't work," says Joe. Next is Teena, who made a Mediterranean salad with homemade hummus, which Ryan enjoys. She says her secret ingredient in her hummus is sriracha. Ryan likes it and says the dish has lots of flavor. But now it's time to choose a winner for round one, and Ryan has a lot to consider. After taking it all in, he chooses Antigoni as the winner, which means she gets five more minutes to prepare her dish for round two. But before round two begins, it's time to meet the judges. Margo True is the Food Editor at Sunset Magazine. True also co-edited Sunset's The Great Outdoors Cookbook: Adventures in Cooking Under the Open Sky, released this year and has one four James Beard journalism awards. For more from Margo visit
sunset.com.
Celebrity chef Jamika Pessoa is a host and TV personality. The Southern belle with Caribbean roots has been on numerous TV shows, including ABC's The Chew as a correspondent. For more from Jamika visit
ChefJamika.com.
As round two is ready to begin, Ryan reveals the secret ingredient: pizza dough. The contestants will have 45 minutes make pizza into an appetizer and cook it on a Weber grill. The other rules? They have to use four items from the pantry, they can flavor the pizza with anything and they have one more secret ingredient to use: artichokes. "Pizza was fine. I could handle the pizza, but artichokes? Oh man," says Joe. Antigoni gets a five minute head start and gets going starting her grill, hoping to get it as hot as possible. The other contestants get into the mix, and everyone is struggling with what to do, especially with the artichokes. Even the judges admit they wouldn't want to be in the contestants' shoes. Ryan notices that everyone is so worried about handling the artichokes that they aren't even looking at what's going on with their grill fires! Everyone is working hard, and Joe points out the pizza stone to Teena, saying she can't just put her pizza directly on the grill, or it will fall through the grate. However, judge Margo True says putting an unheated pizza stone on a grill guarantees an uncooked crust because the stone will just absorb all the heat, leaving the crust raw. Teena is a bit leery of Joe's help, but accepts his advice. Meanwhile, the judges are urging Antigoni to put her pizza on the grill, with so little time left. While helping Teena, Joe forgets about his own pizza and burns his crust. With one minute left, everyone is struggling to plate their creation for the best presentation. Now, it's time for the judges to weigh in. Antigoni made a white pizza with mozzarella with grilled vegetables, topped with an arugula and artichoke salad. The judges like the flavors, especially the acidity of the dressing on the salad and the Mediterranean flavors, but note that the crust isn't cooked all the way through, despite having a nice crunch on the bottom. Next is Joe, who made a classic Neapolitan pizza with pepperoni and salami and artichokes. Margo notes that it doesn't have much originality, being a classic Italian recipe. The judges like the taste, despite the crust being a bit burnt. Last up is Teena, who made a curry chic pizza, topped with paneer and grilled pineapple. Margo loves her presentation, both the colors of the toppings and cutting the pizza into strips, rather than slices. Jamika enjoys the flavors, especially the mix of the sweetness with the spicy curry. The contestants step away as the judges deliberate. Margo says Antigoni's idea had the most integrity, but she didn't cook her pizza all the way through. GF Joe's pizza had a good classic taste, but wasn't original enough for a competition. And the judges loved Teena's eclectic flavors and presentation, but note that the artichoke flavor wasn't very prominent. All three contestants have done a great job, but only one can win. Who did the judges choose? Teena and her curry chic pizza. She gets a $1,000 gift certificate to World Market. "I can't believe I won. I'm in shock," says Teena. "I'm just so happy. It was amazing." For more information on Cost Plus World Market visit
worldmarket.com
.