Recipes
Summer Fruits Steeped in Sugar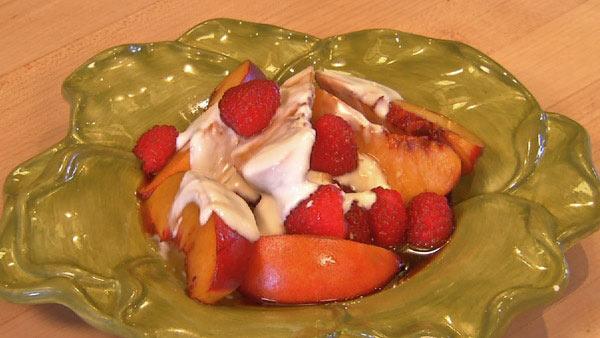 Servings: 8
Difficulty: Easy
Time:
Provided by: Bruce Aidells
1 1/2 cups full fat or low fat yogurt
3 tablespoons honey
2 baskets red raspberries
3 cups peaches, unpeeled and cut into 1-inch pieces
1 tablespoon balsamic vinegar
3 tablespoons light brown sugar or to your taste
Directions
In a small bowl whisk together yogurt and honey until well-blended. Set aside.
In a medium bowl, gently toss fruit with the sugar and Balsamico. Taste a piece of fruit and adjust sugar to your liking. Spoon the fruit mixture into 8 bowls and top with a generous dollop of the honey/yogurt mixture.
* The key to making this simple dessert very special is to use a high quality Balsamic vinegar. The better Balsamic vinegars have a syrupy consistency and a complex sweet and fruity taste. The best is sold under the name "Consorzio Tra Produttori Dell'Accto Balsamico Tradizionale di Modena". This is the real stuff -- unfortunately a 3 1/2 ounce bottle costs about $75. The good news is a little goes a long way. If you can't find this Balsamic, buy the best you can find. Fruit beers go quite well with this dessert, especially the Cherry Lambic called Krieg produced by Lindeman's from Belgium. Don't make this dessert too far in advance since the fruit can throw off too much liquid and become quite watery.