Recipes
Spicy Sausage Corn Cakes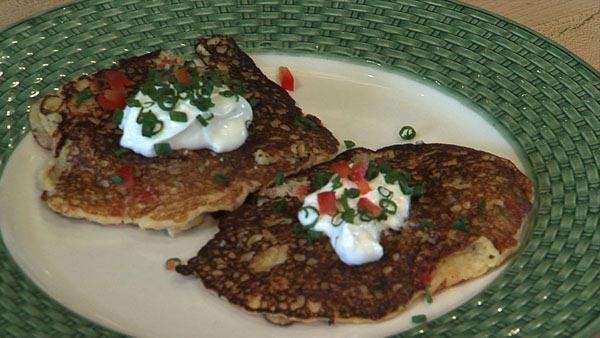 Servings: 4 - 6
Difficulty: Easy
Time:
Provided by: Bruce Aidells
2 cups water
2 tablespoon butter
1/4 teaspoon salt
1 tablespoon sugar
1 cup yellow cornmeal
2 eggs
1/2 cup milk
1/4 Cup stone-ground whole wheat flour or all-purpose flour
1/4 cup cake flour
2 teaspoons baking powder
2 teaspoons or more vegetable oil
1/2 pound spicy Italian sausage removed from casings
1/2 cup uncooked sweet corn kernels( fresh or frozen)
1/4 cup chopped, seeded, and deveined red bell pepper (optional)
1/2 cup chopped green onions, white and green parts
Directions
1. In a small saucepan, bring the water and butter to a boil. Stir in the salt and sugar and pour over the cornmeal in a large bowl. Stir to combine and moisten the cornmeal. Cover and let rest 10 minutes.
2. Heat the oil in a skillet over medium-high heat and fry the sausage for 3 to 4 minutes, breaking it up as it cooks. Remove with a slotted spoon and reserve.
3. In another bowl, lightly beat the eggs, stir in the milk, and quickly mix in both flours and baking powder. Do not over mix. Add the egg-flour mixture to the cornmeal and stir enough to combine.
4.Mix the cooked sausage, corn, bell peppers (if using), and green onions into the batter.
5. Heat a lightly oiled griddle or heavy non-stick skillet over medium-high heat.. Pour 1/4 cup of the batter onto the hot surface to form 4- to 5-inch cake. Cook 3-4 cakes at a time, being sure not to crowd them. When bubbles come to the surface of the pancake and the underside is lightly browned, turn and cook for an additional 2-3 minutes, until the other side is lightly browned. Repeat until all pancakes are done using more oil as needed.