Recipes
Nonna's Homemade Italian Apple Cake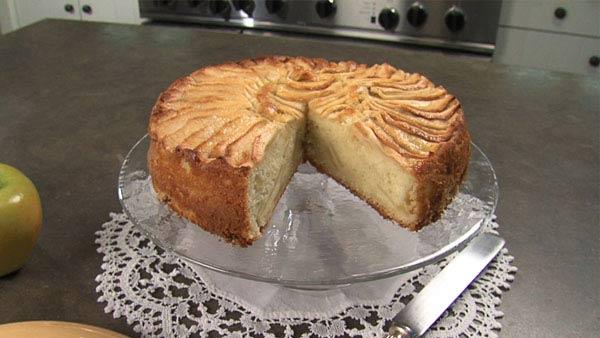 Servings: 8
Difficulty: Easy
Time:
Provided by: Deborah Dal Fovo
2 pounds/1 kilo Golden Delicious apples, about 5 apples
Juice of 1/4 small lemon
7 tablespoons/100g unsalted butter plus more for greasing pan and dotting cake top
1/3 cup/75ml milk, plus more if needed
1 3/4 cups/200g all-purpose flour, plus more for dusting pan
Pinch of salt
2 teaspoons baking powder
2 extra large eggs, at room temperature
1 cup/180g granulated sugar, plus more for sprinkling
Zest of 1/2 lemon
1 teaspoon vanilla extract (optional)
Confectioners' sugar to garnish
Directions
1. Preheat oven to 350F/180C. Butter and flour an 8 or 9-inch springform pan and set aside.
2. Peel, core and cut the apples into thin slices. Place in a large mixing bowl and toss with lemon juice to avoid discoloration. Set aside.
3. Melt 7 tablespoons butter in a small saucepan over low heat. Remove from heat, add the milk to the pan and set aside.
4. In a small bowl, sift the flour, salt and baking powder together and set aside.
5. Break the eggs into a large mixing bowl and add the sugar. Using a wire whisk or electric mixer, beat the eggs and sugar together until pale yellow and creamy. Add the grated lemon zest and vanilla extract and mix well. Add the flour mixture gradually to the wet ingredients, mixing well between additions. When all the flour has been incorporated, add the tepid butter/milk mixture and beat briefly until a smooth, thick batter forms without over beating.
6. Add half of the apple slices to the cake batter and fold together until evenly distributed. Spread the batter in the prepared springform pan and shake gently to level the surface. Neatly arrange the remaining apples slices over the top of the batter, fanning out in a circular pattern over the entire surface with edges slightly overlapping. Sprinkle the apple slices with 2 tablespoons sugar and dot with bits of butter here and there.
7. Place in center of hot oven and bake for 60 to 70 minutes until the cake pulls away from the sides of the pan and the surface is golden brown. The cake is done when it tests barely moist with a toothpick. Remove from oven and let cool on a wire rack for 10 minutes, then remove the sides from the springform pan and let the cake cool completely before transferring to a serving platter.
8. Cut into wedges and serve with confectioners' sugar dusted over top.
Special equipment: 8 or 9-inch springform pan with removable bottom
For more information about Deborah Dal Fovo visit www.deborahdalfovo.com.